Automotive dealers and managers are at a disadvantage when it comes to vendor selection and integration. For many, the process of integrating multiple pieces of technology to best serve their dealership process is burdensome.
In contrast, outside the automotive industry, companies like Apple Computer and Salesforce.com seem to have found a way to best serve their customers. Apple has delivered a wonderful executable (iPhone and iPad) and opened it up for others to build great software, without restrictions, and that makes the masses loyal to Apple.
In this session, David Metter, President, Automotive at Hooklogic, will share how successful dealers and multiple solutions providers are working together to integrate multiple pieces of technology in order to sell more cars and service.  David will discuss open architecture, API usage, and integration — all for the good of the dealership and its personnel. He will use the "Genius Bar" specialist analogy and truly have fun and deliver a robust message to the attendees.  David Metter is sharing his expertise with you.
What will you learn and what action items will you take back to the dealership?
1. How to leverage existing technology providers and deliver a great executable to sell and service more customers.
2. How to allow Internet managers and dealers to focus their time and energy on selling cars.
3. How to lower a dealer's cost per sale and raise market share.
David Metter brings a wealth of automotive knowledge and experience to HookLogic, both from a dealer and service provider perspective. Prior to joining HookLogic, Metter served more than six years as chief marketing officer for MileOne Automotive, a large, privately held automotive dealership group. At MileOne, he built an industry-leading marketing organization, leveraging technology and the Internet to increase market share, while dramatically decreasing advertising spend per vehicle sold. He previously headed sales for Autobase, where he helped grow the company from a small start-up to the leading automotive CRM software vendor. He began his career on the showroom floor. As an early adopter of technology, he built a prospecting and follow-up system that helped him rise to become one of the top Chrysler salesmen in the country and eventually general manager of a dealership. Metter is regarded as one of the foremost experts in the automotive marketing and e-commerce space and is a frequent speaker at industry events including Digital Dealer, the Global Automotive Conference, and JD Power's Automotive Internet Roundtable.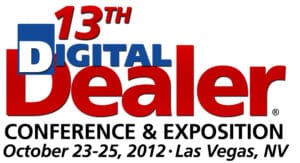 A 13th Digital Dealer® Conference & Exposition Featured Speaker: David Metter presents:  Learning from the Best Practices of Apple: Taking an app store approach to vendor selection.
We're building out the agenda, selecting speakers and topics for more than 100 sessions that are laser-focused on all things digital.
The Digital Dealer Conference & Exposition is the premier educational conference and expo dedicated to Internet and technology solutions for automotive professionals. Digital Dealer events deliver the largest array of speakers, peer to peer opportunities, and exhibit hall offerings – all carefully designed to impart cutting edge business strategies. With an audience of the industry's most progressive dealers and managers and the most innovative conference format, Digital Dealer provides the ultimate learning and networking environment.  For more information, visit:  www.DigitalDealerConference.com
Author: