Culmination of 2012 IndyCar Trackside Activation Programs Gets Fans 'Up Close and Personal' at Mid-Ohio
INDIANAPOLIS – The season-long Honda Racing/HPD trackside activation programs at Honda-sponsored IZOD IndyCar Series races will culminate at the Honda Indy 200 at Mid-Ohio on Sunday, August 5.  With the goal of promoting and rewarding affinity for the Honda brand, and implemented over the course of three Honda-sponsored IndyCar race events, activation programs include the On-Track Ticket, Fan Section, and Backstage Pass.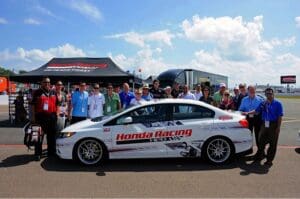 "We feel it is important for Honda Racing/HPD to reward its fans for their loyalty and dedication to the brand," said T.E. McHale, Motorsports Manager of American Honda Motor Co., Inc. "These trackside programs are meant to show our appreciation to our many Honda loyalists and give them an outlet to express their passion for Honda."
Reaching speeds up to 150 mph, Honda's On-Track Ticket gives fans a once-in-a-lifetime, VIP opportunity to experience the racetrack via a hot lap in the Safety Car program.  Participants also receive custom Honda Racing/HPD merchandise, a photo with their Safety Car driver, and exclusive discounts at HondaRacingStore.com.
The Honda Fan Section creates a trackside community where Honda fans converge to experience the excitement of the IndyCar atmosphere among fellow Honda fans.  Participants receive Honda Racing/HPD rally towels and hats, and have the opportunity to compete for other prize packages.
The Backstage Pass program is a social media-based contest to reward the most loyal, passionate, and creative Honda owners. The contest is hosted on Honda Racing/HPD's Facebook page, and encourages fans to submit pictures, videos, essays, art – anything that expresses their love for the Honda brand.  Winners receive "backstage" Honda paddock tours, custom merchandise, and trackside hospitality.
Information on these programs is available at Facebook.com/HondaRacingHPD.
Author: