This past July, Honda of Ocala faced the challenge of growing their dealership using multiple forms of media and multiple vendors. Tom Moore found that, not only did dealing with multiple vendors take valuable time, traditional and digital marketing pieces, created by different companies, were inconsistent in design and messaging. This produced fragmented results and mixed messages that confused both customers and employees.
Honda of Ocala's situation does not differ from that of many dealerships. Considering the growing popularity of digital media, it is important that that dealerships communicate their marketing with consistency over their various outlets.
To achieve growth, Moore set out to develop a new integrated marketing strategy, employing one program that promotes all of the store's profit centers with the end results being higher sales, service and customer retention.
"We were spending separate advertising dollars in service and sales and marketing to the same customer," Moore stated, "The use of multiple companies not only produced mixed messages but it's also expensive. We wanted to bring everything under one roof."
Moore set the new plan in motion with a comprehensive five-year historical analysis of the stores sales and service transactions to determine customer trends. Those findings were then compared to leading third-party and industry data to establish consumer patterns within the local market.
Honda of Ocala was then able to identify vehicle owners with the greatest probability of buying or servicing with the dealership, their perfect prospect. The research also pinpointed same- brand owners who had never visited the dealership and off-brand owners with a greater percentage of crossing over to the brands it sells. With their ideal market identified, Honda of Ocala implemented a comprehensive targeted marketing strategy using mail and email campaigns that consistently speak to its customers and prospects with custom messaging. This targeted marketing strategy is unique because most dealers use the manufacturer's service marketing program which often limits dealer's communication to customers that have purchased directly from their store, but also limits the dealer from contacting numerous conquest opportunities within their market. If a dealer only has 30 percent market share, they are essentially missing out on an additional 70 percent of the area's service market. Honda of Ocala recognized the opportunity to broaden its service marketing program with conquest customers and has greatly expanded their reach of potential service customers.
"We send high-end campaigns promoting our best sales and service offers to our perfect prospects. The campaigns always include messaging that is relevant to the customer's vehicle service status," comments Moore. Customers who are active with the dealership and customers that are categorized as lost receive different forms of marketing.
For example, active service customers who routinely come in for service receive a $21.95 "Tire Rotation & Multi-Point Inspection" coupon, but lost customers who do not regularly service with Honda of Ocala, receive the same offer but for $14.95 to encourage them to come back "In just two months, our service visits have increased by 13%," he says.
Service lane customers are extremely important to Honda of Ocala because they present an opportunity for sales. Moore and his team use a unique strategy that specifically targets vehicle sales within their service lanes. This program, the "Vehicle Exchange Program" is integrated across Honda of Ocala's web site, www.hondaofocala.com, the showroom and service lanes, as well as their direct mail. "The key to this program is the call that's placed to confirm the customer's service appointment. If a customer is in an equity position, our call center informs them that they are eligible to upgrade into a new vehicle for the same payment as their old vehicle," explains Moore. "So rather than wait and hope that the customer will buy from us when they're ready, we proactively try to sell the customers in service before they enter the market."
"The best customer that any dealer can find is one they already have. Customers who have an active service relationship with a dealership are seven times more likely to purchase with that dealership," says Budd Blackburn, owner of Team Velocity Marketing, the company that Honda of Ocala uses for their sales and service marketing.
An added benefit to sales and service marketing strategy is a healthier trade pattern. "Utilizing the Vehicle Exchange Program in the service lane has increased the number of late-model, quality trades. This is ultimately a big savings for us, not having to overpay at auction," says Moore.
In order to sustain the level of excellence and customer service Honda of Ocala is known for, the store regularly trains and communicates with its employees so they are fully knowledgeable when customers call or visit the dealership. The training includes a monthly campaign kick-off meeting for the entire sales team where all the details, offers, and promotions are thoroughly explained. They also cover the dealership in point- of-sale banners, brochures, and hang tags that constantly draw attention to the dealership's current campaign. Everywhere a customer turns, there is something pitching service, sales or encouraging them to exchange their current vehicle for a new one.
"Developing this program with one vendor has allowed us to streamline our marketing strategy and provide consistent messaging to our customers." Moore comments, ""We are pleased with the results so far and look forward to continuing this long-term strategy."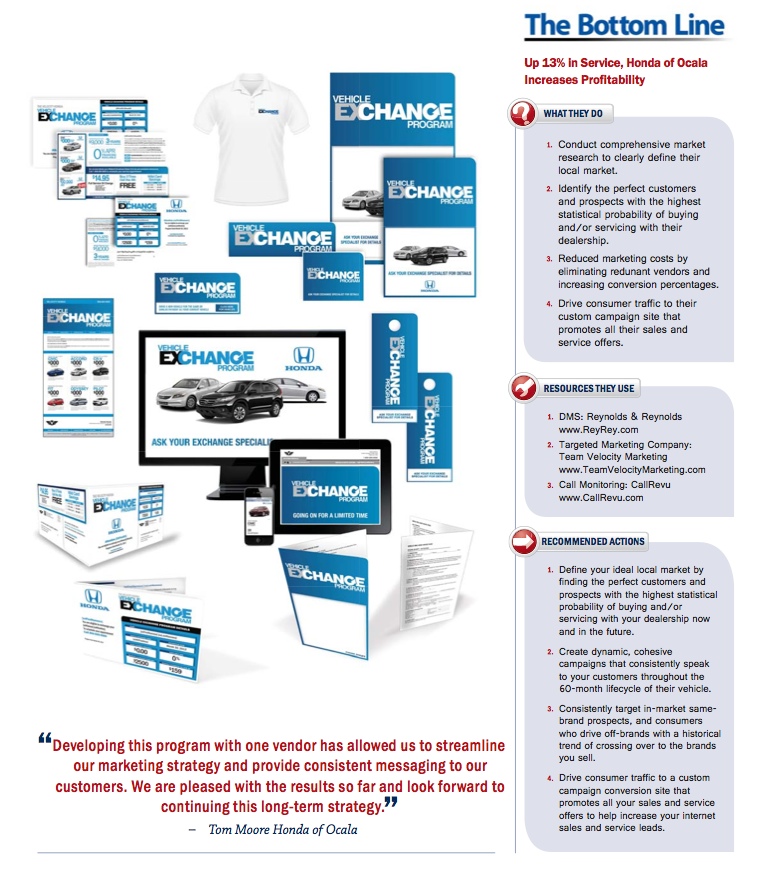 Author: