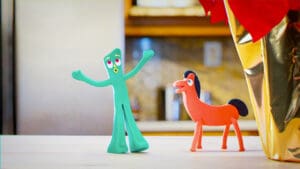 Honda Gives Dealers Social Amp For Toy-Character Holiday Ads, from Forbes.
Auto brands and dealers still have a long way to go to coordinate their marketing efforts effectively in the digital age, but Honda has harnessed up Pokey and enlisted G.I. Joe to get the brand and its dealers closer to that goal during this heavy promotional season.
It seems Honda has struck a cultural chord with consumers via its holiday TV-advertising campaign featuring nostalgic cartoon characters in modern roles, hanging around dealer showrooms and talking up Honda vehicles. Always on the lookout for new initiatives, Honda's peripatetic social-media crew also saw an opening.
So now, just in time for Christmas, Honda has taken the same endearing cast of cartoon characters and put them in a series of holiday-themed online-only social videos that end in pitches for selected charities. There's Gumby and Pokey shilling for the Pediatric Brain Tumor Foundation, for example, and also videos pairing He-Man and Skeletor, and G.I. Joe and Jem.
Click here to read the entire article >>
Author: