General Manager Kevin Szura has been in the automotive management profession for more than twenty-five years. His dealership, Henderson Hyundai, was averaging a solid net profit each month of approximately $150- $200 thousand as a result of strong leadership and good teamwork. However, Szura knew that with the right program, the dealership could surpass this standard to reach into the territory of the truly great.
The challenges behind such an undertaking were clear. Henderson Hyundai would need to use an integrated approach to meet all of the dealership's needs.
The first group that Szura knew the dealership would need to grab control of was the existing customer base. Henderson Hyundai's competition aggressively markets to their customer base, proving a real threat to their customer loyalty. To combat this, Szura decided to partner with a targeted marketing company. The goal behind their partnership with Team Velocity Marketing is to foster a relationship strong in communication with the customer, from the time they begin the buying process, to the time of sale, and throughout ownership by delivering personalized marketing materials on a monthly basis.

"We're not only excited about the prospect of putting our customers in a new or used Hyundai. We're also excited about keeping them in one," says Szura.
By regularly reaching out to their database with ongoing communications of combined sales and service messaging, Henderson Hyundai educates their customers' households on their current, effective offers in the market. Henderson Hyundai employs this retention plan and utilizes the clean data provided by Team Velocity to target their customers who are about to enter the market, rather than only those who are currently in the market for a new vehicle, thereby catching customers before they have any chance to shop the competition.
After their targeted marketing company pulled a data cleanse on their DMS, Henderson Hyundai found that nearly 40% of their customer base on record no longer owned the vehicle. By eliminating such waste, the dealership saved ad budget that could be put toward the acquisition of new conquest customers.
This new strategy involves more than just targeted mail, Henderson Hyundai has completely reallocated their marketing budget. The dealership employs direct mail, email, outbound calls, targeted search, online display ads, targeting via websites and in- store point-of-sale advertising the program and confirming / solidifying customers' confidence in the ongoing process. In the past, the dealership spent 75% of their budget on mass media outlets, such as newspaper, television, and radio. Today, the organization utilizes 50% of their budget for targeted marketing, which is both more measurable and proven to be more successful than traditional marketing efforts.
According to the Borrell study in July 2013, there has been an enormous shift in automotive advertising from mass market mediums to more targeted mediums. Newspaper, broadcast television, and radio, which had always dominated the industry, fell by 29.3%, 16.7%, and 15.3%, respectively. Direct mail saw the largest increase of any medium, at 22.9%, while online advertising trailed closely with gains of 18.7%. It became clear that these trends were meant to be followed.
The dealership had a goal of increasing profitability for all departments. The integration of sales and service maximizes opportunities for all portions of the dealership. If each department is benefitting in the process, they are much more likely to give it their all and follow suite. Henderson Hyundai built a comprehensive targeted and digital marketing strategy to communicate with all of its same brand owners within their perfect prospect zip codes, where customers are most likely to service and buy from the dealership. They also conquest these customers and a large number of top trade owners (competitive make vehicle owners most likely to trade their vehicle in for a Hyundai) on a regular, ongoing basis.
By marketing directly to their existing database, the dealership increases their number of loyal customers, and sells to them more often. By selling same-brand customers more often, the used sales department has profited immensely and seen twice as many sales. This great incoming volume also guarantees vehicles with "a history that is no mystery" and allows for a high-quality used vehicle selection. Since these vehicles belonged to active customers of Henderson Hyundai, they rarely require extensive repairs before resale and the dealership is able to turn these cars in an average of six days. This process "creates the perfect used car lot." Since the implementation of this strategy, both used and same brand trade sales have skyrocketed.
The dealership's low new car inventory made growth via sales volume particularly difficult, but volume is not something that Kevin Szura is particularly worried about. "So many dealers get hung up on volume, to the point that volume is a show of vanity. Gross is the actual source of our sanity – what really shows our true progress," says Szura. As a result of their highly efficient marketing practices, Henderson Hyundai has been seeing particularly pleasant changes in both their sales and service departments.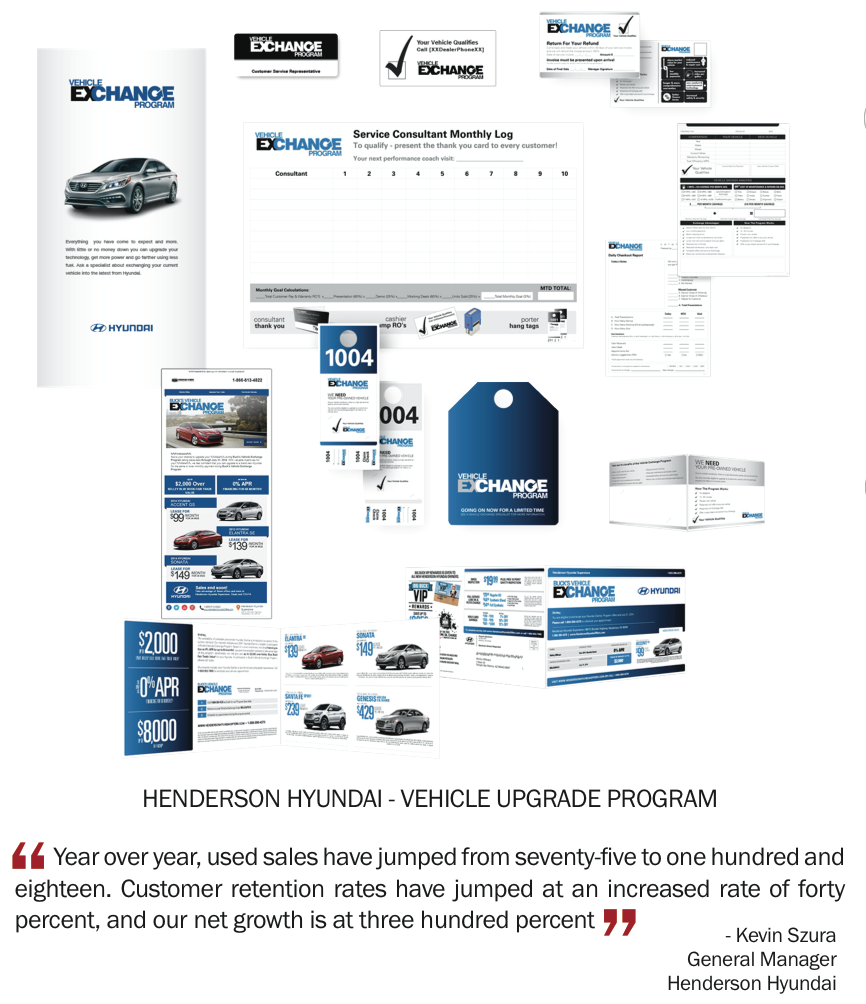 Henderson Hyundai works with Team Velocity Marketing to deploy outbound mail and email, and uses their processes to follow up in store with these customers through point of sale and the dedicated Vehicle Exchange Program personnel for sales in the service lane. The factors behind their success are that the dedicated Vehicle Exchange Program team is held accountable for putting up their numbers. They are responsible for the number of appointments, test drives, and sales that they make, and rewarded for them.
"We would rather have the policies, procedures, and processes in place to be number one in net profit," says Szura. "Prior to utilizing the Vehicle Exchange Program, our dealership sold between twenty and thirty vehicles in the service lane per month. That number is now over seventy-five every month."
Year over year, used sales have jumped from seventy-five to one hundred and eighteen. "Customer retention rates have jumped at an increased rate of forty percent, and our net growth is at three hundred percent," Szura explains.
A large source of this gross comes from the active customers who receive the regular, ongoing communications via targeted mail and email. This group creates a higher gross per transaction than any other pool of customers across the board. Communicating with customers each month has created strong progress. "We service and sell to our loyal customer base more frequently, and with one cohesive message that they don't forget." says Szura.
Author: