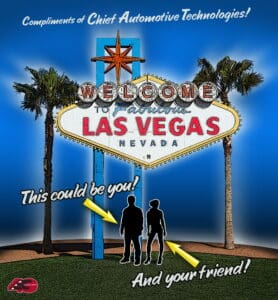 Madison, Ind. – Chief Automotive Technologies, one of the world's largest manufacturers of vehicle frame-pulling equipment, computerized measuring systems and frame specifications, invites the collision repair industry to help celebrate its 40th anniversary in 2012. The "Show Us Your Chief Equipment" campaign asks Chief fans to post photos and stories about their Chief equipment to the company's Facebook page, www.facebook.com/ChiefAutomotive. There will be opportunities to win weekly prizes through the end of the year, as well as the grand prize: a trip for two to the 2012 SEMA Show in Las Vegas!
"We are proud of the role that Chief equipment has played in helping thousands of collision repair technicians properly repair vehicles so their owners can get back on the road with confidence," says Mike Cranfill, vice president of collision. "I can't tell you how often I'm visiting customers with one of our distributors when we come across an old Chief EZ Liner frame rack still in use after 30 years or more. And while we love to sell new equipment, it's really gratifying to witness the reliability and longevity of the machines we've been making for 40 years. That's why we're asking shop owners, technicians, and estimators to show us the Chief equipment they rely on every day."
Show off your Chief equipment and enter the weekly drawing for anniversary merchandise by posting a photo or story about your Chief frame rack, measuring system, accessories, training or support to Chief's Facebook page, www.facebook.com/ChiefAutomotive. The photos and stories can be of any Chief equipment, regardless of age. Prizes will also be awarded for some of the oldest equipment shown. Enter as often as you like, as long as each photo or story is unique.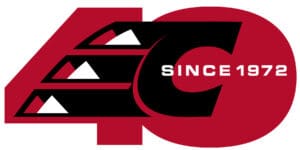 Enter to win the grand prize drawing of a trip for two to the 2012 SEMA Show by filling out the entry form on Chief's Facebook page through Sept. 25. Facebook fans who post photos to the Chief page also receive bonus entries into the SEMA anniversary giveaway. Chief will cap off its anniversary year with a media event at SEMA. The giveaway winner will be invited to the press conference in addition to having several days to explore all the coolest cars, accessories and customization equipment the industry has to offer.
For complete contest rules and details, visit Chief's Facebook page or website, www.chiefautomotive.com.
For more information about Chief Automotive Technologies, visit www.chiefautomotive.com or call (800) 445-9262. Chief is also active on Facebook, www.facebook.com/ChiefAutomotive; Twitter, http://twitter.com/ChiefAutomotive; and YouTube, www.youtube.com/ChiefAutomotive.
About Chief Automotive Technologies
Celebrating its 40th anniversary in 2012, Chief Automotive Technologies, a Vehicle Service Group (VSG) brand, is one of the world's largest manufacturers of high-quality collision repair products and services, including frame-pulling equipment, vehicle anchoring systems, computerized measuring systems, and vehicle frame specifications. Chief is also a leading provider of comprehensive training on structural analysis, computerized measuring, collision theory and design-based repair. Additionally, Chief is the exclusive supplier of Elektron welders, battery chargers and plasma cutters in North, Central and South America. Elektron celebrates its 70th anniversary in 2012.                                                                             
VSG comprises eight major collision repair and vehicle lifting brands: Chief Automotive, Rotary Lift®, Forward® Lift, Direct-Lift®, Hanmecson®, Revolution® Lift, Blitz® and nogra®. Based in Madison, Ind., VSG has operations worldwide, including ISO 9001-certified manufacturing facilities on three continents. VSG is part of the Engineered Systems segment of Dover Corporation (NYSE: DOV), a multi-billion dollar, global producer of innovative equipment, specialty systems and value-added services.
Author: