Dealers will face increased risk and challenges with their computers systems in 2013. The push for mobile devices will strain antiquated and insecure wireless networks. Hardware obsolescence is a continued pain point and causes immeasurable front line productivity loss. On the regulatory side, the FTC announced its first action against a Dealership for "Putting thousands of customers at risk." The Business Software Alliance is also taking action against Dealers for alleged software piracy.
Join industry technology expert Erik Nachbahr for a frank discussion on the risks and get real world tips to prepare and protect your organization. Erik Nachbahr is sharing his expertise with you.
What will you learn and what action items will you take back to the dealership?
1. Identify security risks in wireless networks and perform a simple self-assessment of security.
2. Understand and project hardware requirements and refresh recommendations.
3. Understand the specifics of the FTC action and implications for dealers and how to protect yourself.
4. Understand the basics of software license compliance.
Erik Nachbahr founded Helion in 1997 with the goal of bringing strong information technology strategies and leadership to auto dealerships. That vision has guided Helion with a focus on outstanding service and innovative, client centric solutions. Nachbahr believes that a strong information technology strategy centers on improving the efficiency of the business it serves while controlling costs. Nachbahr holds a B.A. from Loyola University Maryland, an A.A. from Baltimore International Culinary College and industry certifications from Microsoft and Cisco. In his current role as president and CEO of Helion, he works as chief information officer for a client base with billions of dollars in annual revenue.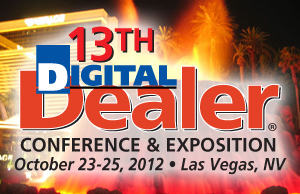 A 13th Digital Dealer® Conference & Exposition Featured Speaker: Erik Nachbahr presents:  Top Technology Threats for 2013: Learn how to secure wireless, protect from FTC enforcement of GLB and BSA enforcement of software copyrights.
We're building out the agenda, selecting speakers and topics for more than 100 sessions that are laser-focused on all things digital.
The Digital Dealer Conference & Exposition is the premier educational conference and expo dedicated to Internet and technology solutions for automotive professionals. Digital Dealer events deliver the largest array of speakers, peer to peer opportunities, and exhibit hall offerings – all carefully designed to impart cutting edge business strategies. With an audience of the industry's most progressive dealers and managers and the most innovative conference format, Digital Dealer provides the ultimate learning and networking environment.  For more information, visit:  www.DigitalDealerConference.com
Author: