Enhanced AdWords Campaigns. Hummingbird. Conversational Search. There's been no shortage of big headlines coming out of the Mountain View search giant in the last few months. What you haven't heard about is the newest mousetrap in search engine marketing (SEM PPC) that's poised to change the game.
As a Google Premier SMB Partner, my team got early access to this technology this Fall. Our initial tests with a handful of dealers netted a 71% boost in CTR (click through rates) over standard campaigns. More importantly, we were able to lower the average cost of conversion by 46%, making our dealer's marketing budgets work harder for the same monthly investment.
The Mousetrap: RLSAs
Remarketing Lists For Search Ads (RLSAs) does for search marketing what display retargeting does for banners. Existing AdWords targeting criteria allows you to deliver relevant search ads based on:
Device
Language
Location
Daypart (Time)
Keyword
RLSA's add two new variables to the equation:
Uniquely target shoppers who are already familiar with you
Deliver custom ads and broaden your target geography to reach shoppers in a wider area than you would with your core ad groups
How RLSA's Work
Just like display retargeting, RLSA's require you to add a tracking pixel to your Google Tag Manager code on your website. As visitors arrive, they're automatically added to an "audience list of visitors" in your campaign: your Remarketing List.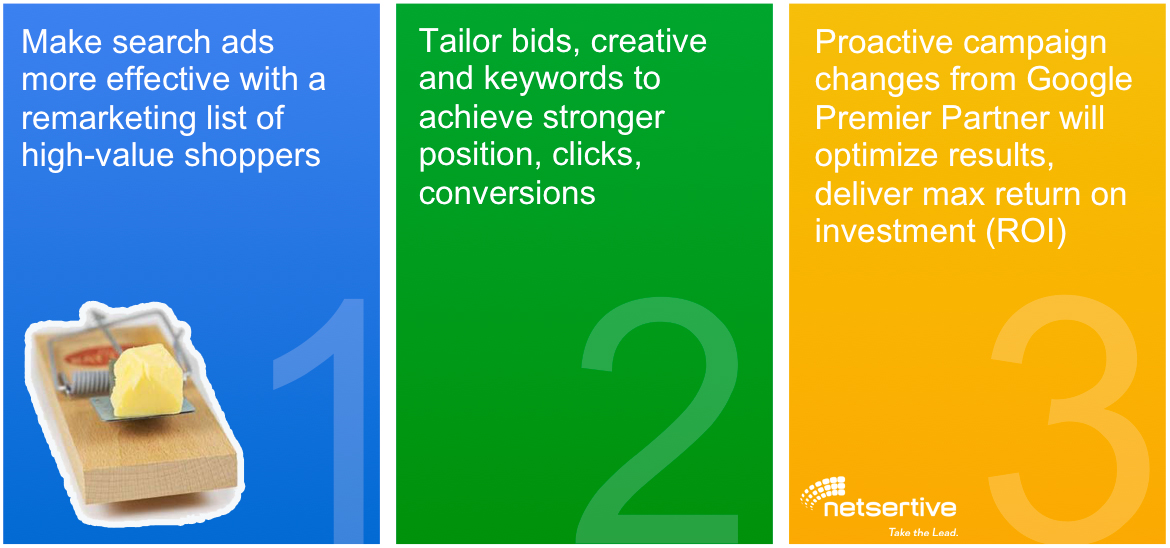 This list can be used to deliver both targeted Google Display Network ads, as well as targeted AdWords search campaigns. If you're doing display retargeting today, it's time to add search remarketing to complete the equation.
It's important to note that RLSA is not "search retargeting." This means that your RLSA won't include or use information about shoppers Google search histories. Instead, it's collecting a list of website visitors which you can remarket to with a separate text ad group.
Why Remarket?
All Google searches are not created equal. In a perfect world, you'd channel your online marketing dollars into campaigns that put custom messaging in front of shoppers who are already familiar with your site, top makes and models, and the services you provide. Read: The things that make you the most money.
Adding an RLSA campaign will give you the power to use existing audience lists created with AdWords pixels, use the list with new search-only campaigns, and create ads that speak directly to the specific makes, models and services shoppers have already viewed on your website.
The biggest opportunity here is to carefully focus new search adgroups around the broad keywords and themes you wouldn't normally bid on because the keyword value-to-click would be too low to pay a premium for a strong position, and open up your geography to deliver ads across your entire state or region.
Problem: Branded Keywords
For example, running a standard campaign loaded with general terms like your OEM brand names or "car dealer" would quickly rip through your available budget with very little ROI.
By creating an audience list of visitors to your local website and carefully comparing this audience report to your overall traffic, you can set a higher bid multiplier for these brand keywords and pay an appropriate premium for a return click and net a lower overall cost per conversion.
Problem: Non-Converting Keywords
Another challenge RLSAs tackle head on: dealers not bidding on high-traffic keywords that have a very low average conversion rate. Again, your audience list of site visitors gives you the ability to create a new campaign with fresh ads loaded with high-traffic keywords. You'll serve the new campaign to your remarketing list only, and boost your CTR and conversions.
What You Can't Do
Advertisers can't use existing custom 3rd party or parameter audience lists, bundle search and content campaigns, or write ads that imply knowledge about previous site visitors based on their past activity.
The remarketing list policies for search are essentially identical to display, with the addition that pixels can't be placed on pages that collect personally identifiable information.
Choose Campaigns Carefully
In our tests at Netsertive, we found that RLSA's work best with keyword categories that are consistently not delivering ads into strong positions (top 3). We found that campaigns with an average position of 2.1 or worse benefitted the most from applying the remarketing list.
Remarketing lists also boosted results for campaigns with low conversion rates, because we have the ability to deliver messaging to higher-converting users with more appropriate bids and custom messaging based on their previous site visits.
It's never been more important to work with a Google Premier Partner who can counsel you on the right strategy for putting an RLSA campaign to work for you. Your partner must keep close tabs on performance at the ad group and page level, and proactively test then add high-performing keywords, ads, and new geography targets into your existing ad groups going forward.
Author: