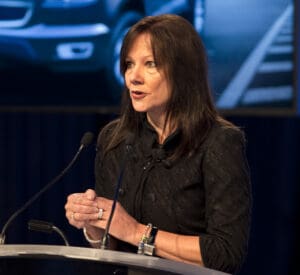 DETROIT – The all-new 2013 Cadillac ATS compact luxury rear wheel drive sedan will be among four General Motors' concept or production vehicles making world premieres at the 2012 North American International Auto Show in January.
"ATS is a crucial part of Cadillac's expansion," GM Senior Vice President of Global Product Development Mary Barra told the Automotive Press Association on Friday. "ATS enters the biggest market segment in the global luxury car industry, both in terms of volume and importance.
"It's a segment dominated by German cars, including the BMW 3-series, Mercedes C-Class and Audi A4, so we've developed a compelling and convincing new challenger," she said.
ATS marks the debut of a new rear-wheel-drive-based architecture designed for agile, quick-and-fun driving dynamics and advanced technology. The ATS goes into production next summer at the Lansing, Mich., Grand River Assembly plant.
Barra, who was named to her position about a year ago, oversees a $15 billion operation currently designing and engineering 113 major product programs globally "from concept to production… mini-cars to full size body-on-frame trucks…and everything in between," she said.
Barra said she has spent much of her time seeking and executing efficiencies in the way GM develops products.  Core architectures – the basic building blocks of new vehicles – accounted for 30 percent of volume when she took over. Today, the same architectures cover 48 percent of volume.
"We're targeting 60 percent by 2014… and 90-plus percent by 2018," she said. "It's a similar story with our engine platforms. As recently as 2009, we built 20 different engine platforms around the world. Over the next several years, our goal is to reduce that to 10."
General Motors Co. (NYSE:GM, TSX: GMM) and its partners produce vehicles in 30 countries, and the company has leadership positions in the world's largest and fastest-growing automotive markets.  GM's brands include Chevrolet and Cadillac, as well as Baojun, Buick, GMC, Holden, Isuzu, Jiefang, Opel, Vauxhall and Wuling. More information on the company and its subsidiaries, including OnStar, a global leader in vehicle safety, security and information services, can be found at http://www.gm.com.
Author: