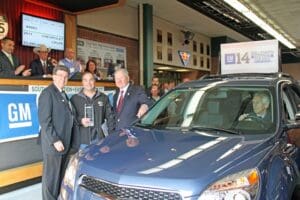 This week General Motors announced it is remarketing its 14th million vehicle at Southern Auto Auction in East Windsor, Conn.– a significant milestone for the company, as well as the auction.
"The 14 millionth remarketed GM vehicle is a milestone that signifies our commitment to providing dealers and customers quality used vehicles," said Ed Peper, general manager, GM Fleet and Commercial Operations. "This is an important part of our business. High residuals translate to greater vehicle value, which benefits our dealers and customers of both pre-owned and new vehicles."
About Chevrolet/Buick/GMC Certified Pre-Owned Vehicles
Chevrolet/Buick/GMC Certified Pre-Owned Vehicles are high-quality, reconditioned vehicles, available at participating Buick, Chevrolet and GMC dealers. Each Certified pre-owned vehicle comes with Owner Care, featuring a two-year/30,000-mile standard vehicle maintenance program. It is the first offering of its kind from any automotive manufacturer's certified pre-owned program. For more information about Chevrolet/Buick/GMC Certified Pre-Owned Vehicles, please visit www.gmcertified.com.
About GM Sponsored Auctions
General Motors has been a major participant in the growth of the auction industry over the last two decades. In 1983, GM used 10 auctions with sales of nearly 20,000 used vehicles. Today GM redistributes used, off-lease and off-rent vehicles through GM dealers with the help of 35 GM Sponsored Auctions across the U.S. This provides value not only for GM, but also provides a source that makes available high-quality used vehicles for GM dealers.
Author: