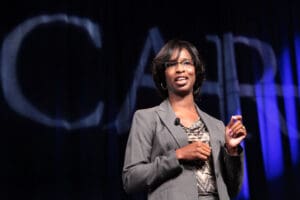 TRAVERSE CITY, Mich. – General Motors definition of customer experience is expanding to include what happens before, during, and after the sale – instead of just what happens in the dealership, U.S. Vice President of Customer Experience and Vice President of Global Quality Alicia Boler-Davis said Thursday.
"We're no longer thinking about a vehicle sale as a transaction or a singular event," Boler-Davis said during a presentation to the Center for Automotive Research Management Briefings.  "We're thinking about it as part of a relationship between the customer, the dealer, and GM.
"Put another way, the customer experience begins long before our products make it to the dealer showroom.  It begins with our very decision to build a vehicle… and involves every customer touch point after that.  It involves the entire enterprise."
Every function and every employee – from Product Development and Manufacturing to Sales and Service and Customer Engagement Centers – impacts the customer experience and influences the customer, she said.
General Motors Co. (NYSE:GM, TSX: GMM) and its partners produce vehicles in 30 countries, and the company has leadership positions in the world's largest and fastest-growing automotive markets.  GM's brands include Chevrolet and Cadillac, as well as Baojun, Buick, GMC, Holden, Isuzu, Jiefang, Opel, Vauxhall and Wuling. More information on the company and its subsidiaries, including OnStar, a global leader in vehicle safety, security and information services, can be found at http://www.gm.com.
Author: