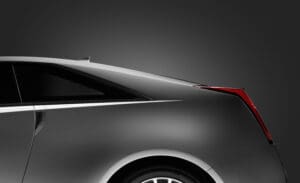 DETROIT – Through September, and just over a year after its launch, the Cadillac CTS Coupe is America's best-selling mid-size luxury coupe and vying for first place among all luxury coupes.
The dramatically designed luxury sport coupe is a force in Cadillac's overall ongoing gains in consumer image in a segment that previously consisted of only well-established European luxury sport models.
Top-selling luxury coupe drives brand image, CTS family sales
CTS lineup and SRX crossover sales rise in September
Cadillac sold 15,771 CTS Coupes through September, with a take rate of nearly 27 percent with the rest of CTS sales split between Sedan and Sport Wagon models. The industry average for coupe sales is 9 percent among luxury automakers.
"The launch and sales of the CTS Coupe has been an unqualified success and sets the stage for the all-new ATS and XTS models as a critical step in Cadillac's brand renaissance," said Kurt McNeil, vice president of Cadillac Sales and Service.
Cadillac's V-Series of high-performance models feature the brand's Magnetic Ride Control technology and a 556-hp supercharged engine. Nearly 20 percent of CTS Coupe models sold are V-Series editions. The Coupe and V-Series products give Cadillac an expanding reputation for high performance, a necessary element for the top luxury brands.
The CTS Coupe has attracted new buyers to Cadillac in general. Sales of the other CTS models – Sedan and Sport Wagon – have also increased. Total sales of the CTS family are up 24 percent in 2011, with 4,663 units sold in September.
According Polk vehicle registration data through July, the CTS Coupe has driven more than half of the mid-luxury sales gains for the year. Comparatively through August, the overall luxury segment share of the industry is down 0.8 points over last year.
Meanwhile, the SRX midsize luxury crossover, which saw its share jump from ninth in the segment to second after its redesign a year earlier, is also vying for the top spot in its segment. Cadillac sold 4,901 SRXs in September, just 102 units fewer than the segment leader.
Escalade continues to lead the full-size luxury SUV segment sales in the United States with total sales of 2,414 units in September.
Beyond its products, Cadillac has also made substantial investments in updating its dealership and sales processes, and revamped its customer care programs, such as Cadillac Shield premium care maintenance and roadside assistance. As a result, Cadillac has grown its share of the luxury retail market 1 percentage point over last year while simultaneously reducing incentives.
About Cadillac
Cadillac has been a leading luxury auto brand since 1902. In recent years, Cadillac has engineered a historic renaissance led by artful engineering and advanced technology. More information on Cadillac can be found at media.cadillac.com.
Author: