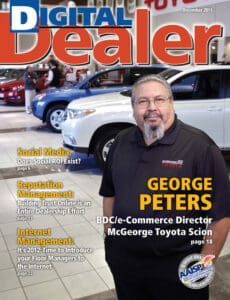 Solid teamwork, innovative responsiveness to customers, constant process monitoring and tuning, extensive research and development, and old-fashioned long hours of hard work have made McGeorge Toyota a winner in so many ways. The numbers tell the story.
McGeorge Toyota's conversion ratio for "clean" Internet leads was 31.94% for October, with an average monthly range last year and this year between 27% and 32% — "clean" being defined as duplicate leads from 3rd party providers eliminated.
The dealership ranked 52 of the top 100 e-commerce dealers nationwide for Internet sales units, with 1,549 new and used Internet unit sales in 2010. And, McGeorge Toyota is on track this year to sell between 1,700 to 1,800 new and used Internet units.
In October, McGeorge Toyota became one of 10 inaugural winners nationwide of the new Digital Dealer Website Excellence Awards – surpassing 229 other dealerships that entered the competition — in the category of "Lead Volume."
Co-sponsored by Dealer Communications and Dataium, LLC, this new awards competition recognizes automotive dealers, managers and their website providers for exceptional performance of the websites they design, host, and support.  The competition is the first of its kind and is completely objective based upon independent, unbiased analytics of dealers' websites performed by Dataium, LLC, the largest aggregator of auto shopper behavior. There is no voting or judging involved.
This award is only the most recent of many that McGeorge Toyota, a third generation family business, has received.
With 15 consecutive "Toyota President's Awards" – starting in 1996 – McGeorge is one of only 22 Toyota dealers nationwide that have received this many consecutive Toyota President's Awards.  There are more than 1,200 Toyota dealers nationwide who compete for these awards.
George Peters, BDC/e-commerce director for McGeorge Toyota, recently shared with Digital Dealer magazine his dealerships' formula for all this success.
Click here to read the rest of George's story and the December 2011 issue of Digital Dealer magazine.
Here is George's full story:
George, why is your dealership so successful?
Teamwork and tenure. The word 'team' gets overused so much that the lines are blurry as to what that really means. But, I can honestly say this is one of the best team I have ever worked with in my career. That makes my job so much easier.
Our standard operating procedure is to "check the ego at the door" when we come into work.  We don't have 'this is my job, that's your job.' Whenever any one of us sees something that needs to be done, we get it done.
And the team is even stronger because of the tenure of its members. We have management staff that's been here more than 20 years. One director just retired after 40 years with the company, and another after 35 years.  We've got sales consultants on the floor that have been here 10, 15, or 20 years. You just don't find that in the auto business or any business; it's something to be proud of.
And we've got the complete support of our owner Rod McGeorge, our Vice President, Dave Mitchell and our General Manager, Bob Farlow. McGeorge Toyota treats team members like family and everyone is comfortable.
Your Internet sales numbers and your conversion ratio are impressive.  Please tell us how you've advanced to this level of achievement.
We started building up the BDC in 2009, when I came onboard, and I made some major changes in our digital presence then too. At that point we only had two Internet salespeople and Internet leads were about 100 to 150 for new and pre-owed. Our website was bringing us only a small percentage of those leads.
The sales consultants would have to enter the customer information in three different ways and we'd have to make sure everything they did was documented in all the systems. That made everyone's job of tracking the customer very difficult, and made accurate measurement almost impossible.
I did a complete analysis of what was already in place and tore it down to the basics. While that was happening I did a great deal of research on what was needed, and worked with several vendors to find the best way to streamline processes and gain efficiency.  We decided to go with VinSolutions for our CRM and Dealer.com for our website because they were the best fit for us at that time.
How is the workflow for your Internet lead system structured?
Our leads are generated mainly by our e-commerce website and supported by a variety of third-party lead providers including AutoTrader.com, Cars.com, Kelley Blue Book, Dealix, and very recently by the Toyota ELMS program.
In addition, our information is also listed on nearly 60 other websites from AOL to Yahoo to Wal-Mart, etc., where leads are generated.
Last month we had over 1,400 new and used car Internet leads from all sources combined. We use VinSolutions to clean out any duplicate leads we get from various third-party lead providers. Our total clean leads, meaning workable, active, verified leads, are generally in the 500-600 range. So out of our 1,400 leads last month, we processed 562 clean leads and we closed 31.94% of those.
Our Internet lead closing percentage year-to-date for 2011 is 27.87%.
What percentage of all of your total sales are Internet sales?
Between 40 and 55% of our total sales come from e-commerce.  Everything that we've researched or learned from vendors or dealers at the Digital Dealer Conference indicates that 88 to 90% of car shoppers start their shopping process online.
However, what we consider an Internet sale comes from a lead that is generated online or from a customer who comes to the showroom, and says I've seen XYZ vehicle online and I visited your website. We also have trackable phone numbers. So, if a sale results from a call I can trace back to a webpage, I consider that an Internet lead.
How many Internet sales people are closing all these leads?
We are a hybrid BDC because we are fully integrated with sales and service. We currently have 8 Internet Sales Consultants on the sales floor responding to these leads, but they work everything through our BDC.
In addition, we have 8 Service Coordinators in our BDC who handle between 12,000 and 14,000 incoming and outgoing service calls per month, as well as the initial activity on the Internet leads we get monthly. (During the height of the Toyota recall, we were close to 20,000 calls per month.)
Our service customers like the personal touch and so do our sales prospects. So, our first response to a sales lead is made by our BDC. It's an introduction thanking the prospect for the opportunity to serve their transportation needs and introducing them to the sales consultant that will assist them. We don't use auto-responders, so as you can imagine it puts a heavy load on the entire team.
Our average response time to leads received during business hours is between 10 and 12 minutes. We constantly monitor the efficiency of this system and we have some very devoted Internet sales consultants.  Our expectation is that when a sales consultant determines his/her hours that they are accepting leads, we expect all those leads to be answered during that timeframe.
We are extremely happy with our sales consultants. They understand that being a part of the electronic lead process is a privilege, not a right.  They work diligently. We have weekly meetings to review issues and share what's been successful for them.
I have many sales consultants that are on shift from 7:00 in the morning to 10:00 each night and I'm their back up before and after. Usually I've got our CRM system up even when I'm not at the dealership. I have my laptop at home and my iPad on the road, as do the sales consultants and we look at leads and make sure we answer them.
Because we work late and respond by e-mail to leads when the showroom is closed, we've been experimenting with several new ways to communicate with our customers during off hours. The brick and mortar dealership has specific hours during the course of a normal day. However, the electronic dealership is open 24/7. If we aren't there to answer questions when customers have them, someone else will.
We started our trial process and beta test for a few of our newer ideas after we got back from the 10th Digital Dealer Conference, where we got a lot of information that provided us with the foundation to build on.
Everything we institute goes through a beta test first before we introduce it across the board. We want to make sure that the move is going to be a positive one, that it's going to be easy to administer and that it's going to be something the sales consultants want to do, because if they don't want to, they won't do it.
You obviously are an early adopter of digital technology. On that note, congratulations on being one of the inaugural winners of the Digital Dealer Website Excellence Awards!  Please tell us how you've developed such a successful and forward looking e-commerce site.
We were very pleased and honored to receive the Digital Dealer Website Excellence Award.  We have worked hard to make our website effective. We want to share the credit for this with our website vendor, Dealer.com, who has built our e-commerce site and continuously helps us optimize it.
We monitor and update our content constantly. I'm a little bit of a numbers junkie; because that's the way we're able to figure out what's working, and what's not, on any given day.  Our website pages are under constant scrutiny and we try to eliminate static pages as rapidly as possible and replace them with something that works for us.
We look at the analytics on our website through Dealer.com daily and sometimes hourly depending on the campaign. They've got a great analytics program that allows us to dig deeply.  When we find something not working, we pull it immediately.  We figure out why it's not working, tweak it and put it back up.  If it doesn't work the second time, then it's pulled completely.
We're constantly moving the needle – rearranging the rotating banners on our homepage. We're able to see how much time each visitor spends on those banners and we monitor the click-throughs. If we aren't getting a satisfactory number, we'll rearrange or alter the banners. We try to provide the customer with the experience they want in shopping for an automobile online.
Recent studies show today's car buyer is only visiting 1.8 dealerships before they make their purchase. They used to visit four to six dealerships to buy a car. People do much more research online now – narrowing down their choices, and deciding which dealerships to visit.  So, if you don't make an impression online, your chances of bringing those types of customers into the dealership are greatly diminished.
Since entering the Digital Dealer Website Excellence competition last summer, the software solution produced by the co-sponsor of that competition — Dataium LLC — has also been a great help to us in monitoring our ecommerce site's effectiveness.
When we entered the competition, we – like the other competitors – received Dataium's VisiCogn® INSITE application, the Basic version, at no cost to us for a full year.  Since then, Dataium has been automatically analyzing data from this application and that allows us to evaluate and fine-tune many aspects of our website's performance.
So entering the competition resulted in even more than winning an award. We also are getting fantastic ongoing business value.
How do you handle SEO and SEM to bring customers to your website in the first place?
We work with ReachLocal for both SEO and SEM and we're very happy with what they are doing. We're very active in our keyword search and buy process. We are constantly monitoring all of that to see where our dollars are best spent. We look to see which of the keywords are reasonable on a pay-per-click basis and for buying results, versus the keywords that have a high click rate, but won't necessarily provide us the return in terms of quality leads. Because there are so many choices or "solutions" in the marketplace, we look at the ROI on everything we do weekly to ensure we are moving in the right direction.
We're very serious about the sale of a vehicle, and more serious about retaining the customer's business for the long run.
McGeorge Toyota was established in 1968 and we have a long-standing reputation in the Richmond area for our great customer service. We do a lot of community service work as well. As a result, we've got good customer retention. People know us. People come back. So, we want to insure the customer receives the best possible treatment in the most professional manor and with the latest technology that customers are comfortable using.
What is your biggest challenge as BDC/e-commerce director?
My biggest challenge is keeping up with the changing technology, weeding through and deciding what is going to be the winning electronic technology and then deciding which solutions are best suited for our dealership. Because of the way our hybrid BDC operates, it's even more important to keep my finger on the pulse of the digital market. All the research and analysis I do will ultimately help both sales and fixed ops.
How do you keep up?
Of course, the Digital Dealer Conference is a must and the Dealer and Digital Dealer magazines. Every opportunity I get to do research online, I do it — reading articles and going to websites to see what is the newest technology. But, because of my background I look everywhere for relevant information, not just relating to the auto business. Then I quantify that research by going to the Digital Dealer Conference.
What do you mean by quantify?
There's a lot of generic information out there, and by doing the research, having the notes and relevant facts, and then going to Digital Dealer Conference, you can make sense of it all for the automotive marketplace. By networking there with dealers from around the nation who are very successful in e-commerce, as well as networking with those just starting out that are savvy, we are able to discover what the trends are, so we know what technology solutions are going to last.
There are a lot of technology innovations that come and go. You want to be sure you are on the right train. The one that pulls into the station is the one you want to be on, not the one that gets switched to another track.
How do you handle online reputation management?
Right now DealerRater is the only vendor we use to help monitor and manage our online reputation and we are very happy with the work they are doing. In addition, one of the coordinators in the BDC also monitors Google, Yelp, and other sites on a daily basis.
We encourage our customers, once they've made the purchase and while they are here at the dealership, to please go to DealerRater or Google and write online what they are experiencing. We can't bring them to our computers to do this, because any comment or reference made from an IP address at the dealership would be suspect.
So we ask them to use their own connection to rate their buying experience.
We know the most joyous time in the ownership of a vehicle is normally the day of purchase.  So, we ask our customers to make a comment online that day.
We also pass out cards reminding them to write a review. On the service side, we give out a card letting the customers know they may receive a random survey from Toyota. We ask them to please take a few minutes to fill it out because it's a report card for our ASMs and service technicians.
On the sales side, we give customers two cards. One talks about Facebook and Twitter. The other provides sites they can go to for additional information and to rate their experience. They also get surveyed by Toyota.
We take the surveys seriously and most dealers should.
To enhance our reputation, we also have our own community-oriented site, www.mcgeorgecares.com. We are proud to be serving the community in programs like the Central Virginia Food Bank, the Feed Richmond Campaign, the Juvenile Diabetes Research Foundation, and the Richmond Marathon. We're doing something every month.
What is your typical day like?
I start checking leads at home at 5:00 in the morning and arrive at the dealership between 6 or 6:30.  I prepare for our BDC opening at 7:30 by getting all the necessary documentation in line. We have a daily "make a deal" meeting where we review sales from the previous day. The rest of my day is spent analyzing leads, training sales consultants, and handling the incoming leads. My day usually ends here at the dealership about 6 pm. I get home and relax a while, but then bring the laptop up and I'm usually answering leads until 10 or 11 at night.
You clearly thrive on your work. How did you get into the car business originally?
I got into the business in 1984. At that point, the construction industry was in a boom, but I had a young family and wanted to get into something that would provide lasting income and more stability. I always loved cars, so I started working as a salesperson at a Chevy store. In the first three months, I was salesperson of the month each month and quickly moved into a closer position, as assistant manager. I loved the challenge.
However, I was working "bell-to-bell" seven days a week. I reached burnout, so I took a break from the business. I became an advertising and marketing consultant working with shopping centers and large businesses. I enjoyed what I was doing, but not as much as the auto business.
A friend I knew from church was the GM of a Ford store and I was hired as a customer service manager to help improve CSI and customer retention. At that point, we started to get into the Internet. One of the first vendors we dealt with was Autobytel. We formed a relationship and it proved to go very well — building as we went.
After many years the GM accepted a position with a large automotive group and moved out of the area. Unfortunately, the dealership was not the same, and not long after that I decided to move on. I had the opportunity to work in real estate because it was similar in sales process, sales, and contacts. Most of the work I did was centered around e-commerce and made significant improvements in the digital footprint of many real estate agencies.
Then in the spring of 2008, I found out that a GM I had enjoyed working with before, Bob Farlow, had taken the position of GM here at McGeorge. So I came in and talked. McGeorge was looking to increase their Internet presence as well as build a BDC. This was March 2009. When we realized it was a good match, I was given the task of building the BDC and improving our digital presence in the market.
What's your vision of the future?
We are looking at growing our BDC operations and our digital presence in 2012 and beyond. Just holding our current position is a huge task, but I think with consistent monitoring and ongoing research we will grow McGeorge Toyota to an even higher level in our market as well as surrounding markets.
I am also in the final stages of a plan to detail our moves through each quarter of 2012. The auto market should recover and grow about 8-10% next year, and if we aren't prepared with a way to handle the increase, the customers will go elsewhere.
Today's buyer is much more prepared when they contact the dealership; they are becoming the expert and already know the answers to the questions they ask. Their point in asking is to see if we know the correct information and, if not, will we find out, instead of trying to fumble through it.
As time goes on, we believe a far greater percentage of sales will be done online – in fact, the entire purchase except for the test drive and final paperwork. So, we're developing our BDC to do this, providing the customer with the best use of their time. That's where the future is and we're working toward it.
Author: