Consumers are motivated by many factors that influence their automobile-buying decisions: price, prestige, creature comforts and resale value, just to name a few.
Likewise, there are many reasons why vehicle owners purchase preventive maintenance services from your fixed ops department. Yet, the three that resonate the loudest are increased performance, saving money and going green. Every customer on your service drive is motivated by at least one of the three, some by all three.
You can provide all three (performance, economy and green) by helping your customers keep their fuel systems clean. Today's modern gasoline produces power-robbing deposits in the fuel system. These deposits reduce fuel efficiency and therefore cause a drop in MPG. This inefficiency leads to greater fuel consumption, and that results in more exhaust emissions…i.e., a larger carbon footprint.
Vehicle manufacturers have published dozens of technical service bulletins about fuel system deposits, harmful effects of ethanol, driveability issues and customer complaints. Complex and highly precisioned fuel-metering systems, like gasoline direct injection, have made driveability problems even worse. When the injectors, intake valves, combustion chambers and throttle plates are dirty, cars just don't run right.
The bottom line is this: A clean fuel system is an efficient fuel system that results in maximum performance, lower fuel consumption and a reduction in greenhouse gases. This statement, by the way, is an excellent talking point for your advisors when discussing the benefits of a fuel injection and air induction cleaning services.
Your shop is already doing this service and you have the tools and the chemistry in place right now. The reason I'm so confident is because, with the exception of oil changes, fuel cleaning services are the number one preventive maintenance procedure performed across the nation. I have never been in a dealership that didn't do fuel system cleaning services.
So why the emphasis now? Three factors make this a great time to offer fuel services.
First is the price of gasoline. Granted, the price has taken some wild swings this summer, but it is still very expensive and it consumes a huge chunk of the family budget. Not a day goes by without the media reporting something about gasoline prices. (A clean fuel system increases a vehicle's fuel economy).
Second is motorists thirst for performance. Most people don't have a muscle car, but no matter what they drive, when they stick a foot in it, by golly, that thing better take off like a rocket! People love power. Power and performance are also safety issues. When an 18-wheeler is barreling down on you or you're accelerating up an on-ramp, you need the power to get on down the road. (A clean fuel system allows a vehicle to have maximum performance.)
Third is America's passion for going green. "Reducing your carbon footprint" seems to have found a place in pop culture; it is as much a social issue as it is an environmental issue. Nevertheless, many people are quite passionate about how green they can be. (A clean fuel system reduces a vehicle's carbon footprint.)
Speaking of reducing carbon, I got permission from the U.S. Department of Energy to quote directly from their website. I've also included a graphic to illustrate the point.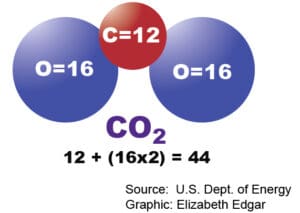 It seems impossible that a gallon of gasoline, which weighs about 6.3 pounds, could produce 20 pounds of carbon dioxide (CO2) when burned. However, most of the weight of the CO2 doesn't come from the gasoline itself, but the oxygen in the air.

When gasoline burns, the carbon and hydrogen separate. The hydrogen combines with oxygen to form water (H2O), and carbon combines with oxygen to form carbon dioxide (CO2).

A carbon atom has a weight of 12, and each oxygen atom has a weight of 16, giving each single molecule of CO2 an atomic weight of 44 (12 from carbon and 32 from oxygen).

Therefore, to calculate the amount of CO2 produced from a gallon of gasoline, the weight of the carbon in the gasoline is multiplied by 44/12 or 3.7.

Since gasoline is about 87% carbon and 13% hydrogen by weight, the carbon in a gallon of gasoline weighs 5.5 pounds (6.3 lbs x .87).

We can then multiply the weight of the carbon (5.5 pounds) by 3.7, which equals roughly 20 pounds of CO2!

Interesting stuff, but how will this make money on your service drive? Here's how: as mileage increases and as time goes by, deposits build up on fuel injectors, intake valves, combustion chambers, throttle plates, and intake runners. These deposits lower a vehicle's MPG, thus causing it to use more gasoline. When your technicians perform a fuel injection and air induction cleaning service, the MPG is restored and the vehicle uses less fuel.
For example, if a pickup with 80,000 miles on the odometer drives 15,000 miles annually at 17.5 MPG, it would consume 857 gallons of gasoline. After a fuel cleaning service, if the mileage improved to 19 MPG, then the pickup would only consume 789 gallons of gasoline. That would save 68 gallons of fuel annually; at 20 lbs of CO2 per gallon, that reduces the carbon footprint of the pickup by 1360 lbs of CO2 annually. By the way, at $3.50 per gallon, that also saves the vehicle owner $238.
Just to be clear, in this example, the service simply restored the fuel system to "like-new" conditions by cleaning up the deposits that had accumulated.
Not only is this service good for the vehicle owner, it is very profitable for your shop. Most of the time, it flags an hour, yet the technician can do it in 30 minutes, so it's 200% efficient…and it produces an effective labor rate of at least $100.
Regardless of the motivation (economy, performance, or green), now is the time to sell fuel cleaning services. Yesterday it was a tune-up, today it's a clean-up!
Author: