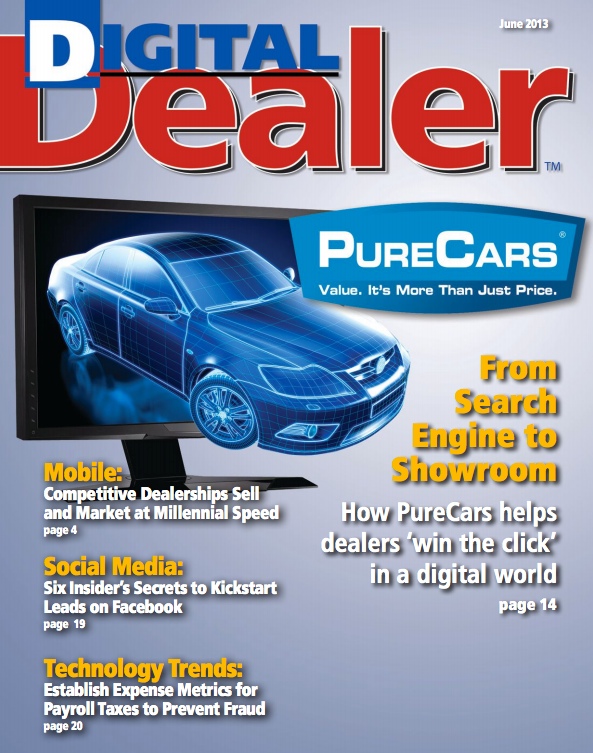 How PureCars helps dealers 'win the click' in a digital world
The rise of the Internet and greater access to information has given birth to a new type of consumer. The age of consumers driving to multiple dealerships to look at a used car is fast becoming a thing of the past. Today, a buyer will search the Internet for the "best" price before ever stepping foot in a dealership. However, even with all the information available, there is often a lack of understanding among consumers that value and not price is what is most important in pre-owned vehicle shopping.
The consumer is often making a decision prior to your sales people having an opportunity to explain the specific highlights of a particular vehicle or the reconditioning you've invested. By showing the consumer a "value report" during their online search, PureCars has changed the game. A value report differentiates your vehicle from your competitor's in a variety of ways, including; reconditioning, options, warranty, mileage and, only if appropriate, price.
Even in the age of online research consumers still have the same fears when it comes to buying a used vehicle:
Am I getting a good deal?
Am I buying a reliable vehicle?
Am I dealing with a reputable dealership?
Those are exactly the types of questions Jeremy Anspach, CEO of PureCars, set out to answer when he started PureCars six years ago. Jeremy recognized there was a gap in communication that needed to be filled: the buyer didn't know if the price of a vehicle was fair, and the dealer struggled to demonstrate a car's value in the online world. Enter the PureCars Value Report and the company's tag line of "Value. It's more than just price." was conceived.
The average dealer spends $700 per car on reconditioning which isn't traditionally communicated to the consumer on a dealer's website or online media. Each PureCars Value Report showcases what dealers spend on reconditioning to get the vehicle showroom ready: new tires, brakes, multi-point inspection, and so on. PureCars is the only company that continuously scans repair orders for value-added services and graphically showcases those services in a fully automated PureCars Value Report. Without any additional work on your part, the PureCars Value Report highlights your reconditioning efforts.

Your deal is always the best deal.
Value Report – $399.95/month
Thousands of dealers nationwide and more than a million vehicle shoppers have used the PureCars Value Reports to justify a vehicle's value and price. PureCars Value Reports build trust between the potential buyer and the dealer by showcasing the key value and vehicle highlights. The Value Reports are extremely useful in engaging customers at every step in the sales process – from online research, to the dealer's emailed response, to an incoming call and, ultimately, a presentation in the showroom. Like all PureCars products, there is a no-term contract and the $399.95 monthly subscription fee provides unlimited access to Value Reports for every pre-owned vehicle on a dealer's website and on PureCars.com.
"Signing up with PureCars has been one of the best decisions I've made in 30 years in the auto business. We use PureCars with every customer to help us close deals. We show them the comparisons of other like vehicles, both currently available and previously sold, and we use that information to help us validate our pricing. It really works." – Mitchell B., e-Commerce Marketing Director
Value Reports are fully automated, require no work from the dealership, and updates right on the dealership's website.

Earlier this month PureCars announced a new Value Report. Improvements include a cleaner, more modern look, and technology that increases load speeds to ensure that customers can view the reports quickly. With a new "adaptive response layout," Value Reports will automatically adjust in size depending upon the size of the device. There is no app to install or settings to configure, just a seamless presentation on any laptop, tablet or smartphone device.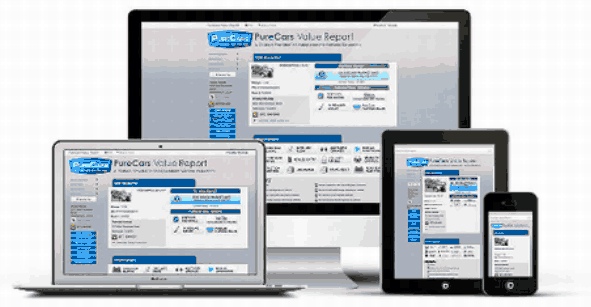 Harnessing the power of retargeting technology.
The new Value Report now includes co-branded retargeting at no additional cost. PureCars advanced retargeting technology enables them to follow any customer that clicks on a PureCars Value Report and display vehicle-specific, co-branded advertisements throughout the consumer's web browsing activities for 60 days after the initial Value Report view. These retargeted ads will include key value and vehicle highlights, and will automatically display any price changes. When a customer clicks one of the retargeted ads, they will be directed to a landing page with calls to action that redirect them back to the dealership's website. Retargeting is seamless and effective, and only PureCars offers it at no additional charge in any Value Report subscription.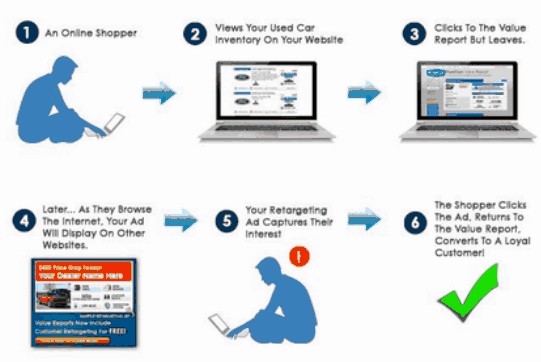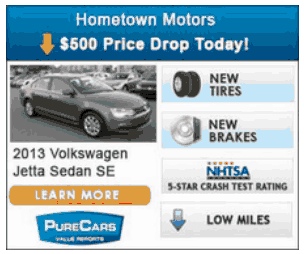 Trade-In Reports that retarget your prospects for 60 days
Trade in Report – $299.95/month
PureCars originally had no intention of getting into the trade-in business, but their Value Report dealers wanted a simple and straightforward option to offer their customers. The PureCars Trade-In Report delivers.
"We were using [other products] as our used car appraisal widget for our Infiniti and Subaru stores. We were averaging 10 to 15 leads per store. With [the PureCars] Trade-In report, we jumped to 60 leads at Infiniti and 45 leads at Subaru. This was a huge increase in leads overnight. Our closing ratio went from 4% to 11% with a higher lead volume." – Matthew S., VP of eCommerce
Although PureCars was not the first to market a trade-in report tool, they were able to harness their deep understanding of consumer behavior along with talented development and design to create a positive consumer experience that delivers quality trade-in leads. The 30-second, interactive Trade-In Report creates a realistic range of prices that gives a dealer the flexibility to negotiate a profitable opportunity. The speed to complete the trade-in form and the graphical Trade-In Report itself results in the industry's most effective trade-in lead generation tool in the market.
PureCars also integrated their retargeting technology into the PureCars Trade-In Reports. Depending on how far the consumer went through the trade-in process, the technology enables PureCars to display vehicle-specific, incentivized trade-in ads throughout the following 60 days of the consumer's web activity. Recognizing that only one out of three consumers completely fill out a trade-in form, PureCars retargeting technology now reengages those lost opportunities.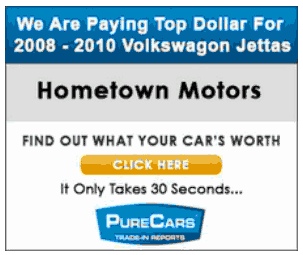 Moving up in search and clicks with SmartComments
SmartComments – $299.95/month
PureCars understanding of value and reconditioning attributes of a vehicle along with online consumer behavior inspired them to develop an automated comment-writing tool.
SmartComments further promotes a vehicle's value by automatically creating custom vehicles comments and delivering those comments seamlessly to all the inventory listing sites that dealers subscribe. SmartComments is the only comment generator capable of showcasing reconditioning. Like all of the tools from PureCars, it is fully automated, requiring absolutely no work from the dealer.
PureCars recognizes that only the first few characters on sites like Autotrader are the most powerful and showcases the highlights in a "front-forward description." Only top vehicle highlights are described and boring features and over-used sales pitches – like "Can you say, Ride in Style?! A Perfect 10!" – are avoided. This results in dealers seeing an immediate increase in Click-Thru-Rate (CTR) from Search Results Pages (SRP) to Vehicle Detail Pages (VDP).

Today, PureCars is headquartered in Charleston, SC, and has over 55 employees across the country, locally servicing every major US market. They have been recognized as an industry leader since 2009 and are currently partnered with Better Business Bureau, CARFAX, AutoCheck, DealerRater, EasyCare, Motor Trend Certified Vehicles, HookLogic, among many others.
Demo PureCars with your current inventory.
If a prospective dealer wants to kick the tires with the PureCars, they can go to purecars.com/dealers and take a test drive. Both the demos for PureCars Value Reports and PureCars SmartComments will use the dealer's actual inventory to demonstrate the power of the tools.
Additionally, PureCars has about 40 dealer advocates across the country that work with dealers in their local markets. By contacting PureCars at (877) 860-7873, an appointment can be made with a dealer advocate. Dealer advocates are not only responsible for the initial consultation, but also provide ongoing training, support, and continuing best practices education, acting as the dealer's point of contact at no additional charge. LIVE DEMO : www.purecars.com/dealers
Author: