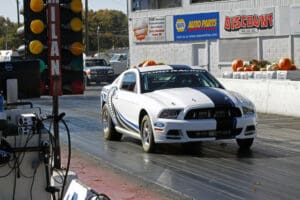 LAS VEGAS – Ford Mustang and F-Series pickups are officially the "Hottest Car and Truck" at the 2012 SEMA show in Las Vegas. The SEMA Award – presented today – recognizes the most popular vehicles the organization's members feature in their displays during the weeklong trade show.
SEMA Award honors the most popular vehicles chosen by specialty equipment manufacturers to be the best platforms for accessorizing and showcasing this year's hottest products, according to SEMA
Ford Mustang officially recognized as "Hottest Car" at the 2012 SEMA show for the first time – a testament to the strong popularity of Mustang with enthusiasts
Ford F-Series pickups officially recognized as "Hottest Truck" at SEMA for the third year in a row
Before this year's show opened, SEMA officials walked the floor of the giant aftermarket expo and counted the number of new 2012 and 2013 cars and trucks exhibited in booths. More Ford Mustangs and F-Series pickups are on display than any other car or truck – testament to the popularity and appeal of Ford vehicles.
"We're pleased and proud SEMA members agree with what our customers have been saying – that Ford Mustang and F-Series are the industry's hottest car and truck respectively," said Ken Czubay, Ford vice president, U.S. Marketing, Sales and Service.
The launch of the new 2013 Mustang in the spring was strong, with Mustang sales this year up 18 percent over last year. Ford F-Series continues its 36-year record as the best-selling pickup in America, on pace to be the best-selling vehicle in America for 31 straight years.
Aftermarket exhibitors aren't the only ones featuring Ford Mustang and F-Series in their booths. Ford is also featuring more than 10 Mustangs and F-Series trucks, showing off the extreme versatility of these iconic Ford vehicles.
Several examples of custom Ford Mustangs and F-Series trucks at SEMA this year include:
2013 Ford Mustang GT built by DSO Eyewear
This 2013 Ford Mustang GT by DSO Eyewear enhances Mustang's aggressive new look with dramatic eye appeal and even more raw power. The Mustang GT signature curves and kicked-up haunches feature a 3dCarbon body kit and brilliant BASF tri-coat white exterior finish with deep black contrast paint. The 420-horsepower 5.0-liter Ti-VCT V8, already the most powerful production V8 in Mustang history, is amped to 750 horsepower courtesy of a Ford Racing Performance Parts intercooled supercharger kit and Whipple Industries 2.9 twin-screw supercharger. Chassis enhancements to the race-inspired GT suspension include Eibach Pro-R2 coilover kit, Eibach adjustable sway bar kit and Brembo front/rear GT brake systems
2013 Ford Mustang by M2-Motoring
The first Ford Mustang rolled off the assembly line in Dearborn, Mich., on March 9, 1964. Each Mustang generation that followed introduced its own unique style and excitement. This 2013 Ford Mustang concept by M2-Motoring combines the ideals of several different Mustang eras with the newest design and engineering technology available today. From custom 20-inch Savini forged wheels to lightweight carbon fiber to high-flow fuel injection, advanced design and engineering technology makes this Mustang concept an incredibly responsive and powerful modern muscle machine
2012 Ford F-250 XLT Crew Cab by Kelderman Air Suspension Systems
For this 6.8-liter Power Stroke® V8 turbo-diesel, Kelderman Air Suspension Systems teamed with Tim Nicolau Designs to provide eight to 10 more inches of lift, powder-coated, chromed and painted suspension components, an AccuAir TouchPad air suspension management system and Sway-A-Way remote reservoir shock absorbers. This Super Duty is ready to go anywhere, with looks to match
2013 Ford F-150 FX2 Sport Super Cab by Truckin' Magazine
A 3.5-liter EcoBoost® V6 powers this Truckin' Magazine creation, which features track-like handling with a lowered stance, a high-performance brake package and more luxurious interior. A unique wheel and tire combination and a custom stripe kit complete the aggressive look and feel of this dynamic build
About Ford Motor Company
Ford Motor Company, a global automotive industry leader based in Dearborn, Mich., manufactures or distributes automobiles across six continents. With about 172,000 employees and 65 plants worldwide, the company's automotive brands include Ford and Lincoln. The company provides financial services through Ford Motor Credit Company. For more information regarding Ford and its products worldwide, please visit http://corporate.ford.com.
Author: