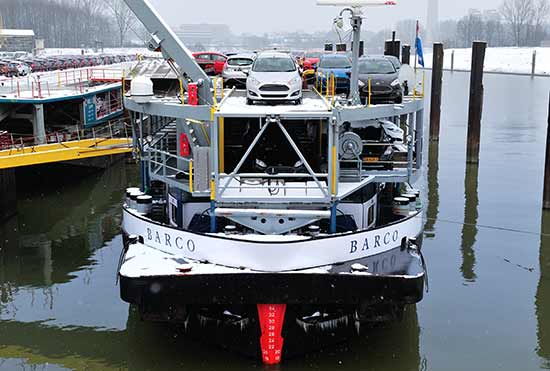 Cologne, Germany – Consumers bought a new Ford Fiesta every two minutes on average last year, make it the best-selling small car in Europe, according to automotive data intelligence provider JATO Dynamics.*
Ford last year sold 953,174 cars in the 30 European markets monitored by Jato, including 306,405 Fiestas. Ford recently announced that during 2012 more than 1.4 million Ford vehicles were sold across all of the 51 European markets in which it operates.
The Fiesta also was the best-selling B-car (sub-compact) globally for the first nine months of 2012, with more than 560,000 Fiestas sold worldwide, according to the latest Polk new vehicle registration data.
"The Fiesta had a fantastic 2012, both in Europe and across the world," said Roelant de Waard, vice president, Marketing, Sales and Service, Ford of Europe. "This iconic car has come to define what customers desire from a small car – style, quality, efficiency and great technology."
Ford has sold more than 15 million Fiestas worldwide since the vehicle first went into production in 1976. The Fiesta now has been the top-selling small car in Europe for three out of the past four years. During that period, more than 1.7 million Fiestas have been sold in Europe and 2.1 million globally.
The U.K. was the most successful European market for Fiesta in 2012, with 109,250 vehicles registered according to Ford figures. Across Europe, Frozen White proved the most popular paint colour among Fiesta customers.
Ford is currently launching the new Fiesta in Europe – which is coming to dealerships now – which is redesigned inside and out and offers the 1.0-litre EcoBoost petrol engine – the 2012 "International Engine of the Year". An ECOnetic Technology version powered by a 1.6-litre Duratorq TDCi diesel engine achieves 87 g/km CO2**.
The new Fiesta also offers MyKey, a Ford-exclusive technology that allows parents to encourage safer driving and limit their teenager's exposure to risk at the wheel. Ford also has equipped new Fiesta with Ford SYNC, a voice-activated in-car connectivity system, and SYNC Emergency Assistance, which directly connects vehicle occupants to local emergency services operators after an accident.
In addition, Fiesta offers Active City Stop, which can help avoid or mitigate low-speed collisions.
"The new Fiesta has some big shoes to fill in 2013 but is perfectly equipped to do so," said de Waard. "Being acclaimed as Europe's best-loved small car in 2012 is a great achievement and we thank all of our customers who continue to put their faith in the Fiesta."
* JATO Dynamics results are based on information provided by JATO Consult, the company's bespoke consulting service. Figures are based on 30 European countries. For more information please visit www.jato.com.
** The stated fuel consumption and CO2 emissions are measured according to the technical requirements and specifications of the European Regulation (EC) 715/2007 as last amended. The results may differ from fuel economy figures in other regions of the world due to the different drive cycles and regulations used in those markets.
About Ford Motor Company
Ford Motor Company, a global automotive industry leader based in Dearborn, Mich., manufactures or distributes automobiles across six continents. With about 172,000 employees and 65 plants worldwide, the company's automotive brands include Ford and Lincoln. The company provides financial services through Ford Motor Credit Company. For more information regarding Ford's products, please visit www.ford.com.
Ford Europe is responsible for producing, selling and servicing Ford brand vehicles in 50 individual markets and employs approximately 47,000 employees at its wholly owned facilities and approximately 69,000 people when joint ventures and unconsolidated businesses are included. In addition to Ford Motor Credit Company, Ford Europe operations include Ford Customer Service Division and 24 manufacturing facilities (15 wholly owned or consolidated joint venture facilities and nine unconsolidated joint venture facilities). The first Ford cars were shipped to Europe in 1903 – the same year Ford Motor Company was founded. European production started in 1911.
Author: