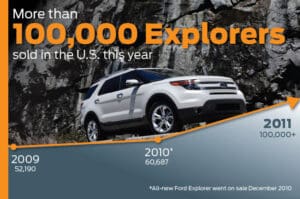 DEARBORN, Mich., Oct. 24, 2011
 – America's love affair with the Ford Explorer is stronger than ever with more than 100,000 Explorers sold this year – making it the fastest-growing midsize utility in the nation.
"The Explorer continues to be one of the strongest vehicles in the Ford portfolio, and we are excited to see it surpass the 100,000-sales plateau for the first time since 2007," said Amy Marentic, group marketing manager. "The success of this vehicle is further evidence we are delivering products that people want."
This year the all-new Explorer has had stronger retail sales growth than any midsize utility, having either tripled or quadrupled sales in all regions of the country. In total, U.S. retail sales of Explorer are up 290 percent compared to the same period in 2010 
http://media.ford.com/images/10031/100kExplorer.pdf
.
"With best-in-class fuel economy and technology like MyFord Touch®, terrain management and the world's first second-row inflatable seat belts, Ford has shown that our dedication to customers' needs is paying off," said Marentic.
Explorer's retail share performance has also increased dramatically. Through August of this year, Explorer accounts for 6.3 percent retail share of the midsize utility segment, a 4.5 point share increase over last year, making it one of the best-selling midsize utilities in America.
Explorer sales in the U.S. have exceeded 100,000 for the first time since 2007.
2011                 100,000 Note: January through early October
2010                 60,687
2009                 52,190
Customers are choosing utilities
The utility segment has changed over the last decade. In 2000, utility sales accounted for approximately 20 percent of the market. Today, utilities account for just over 30 percent of all vehicles sold in the U.S., an approximate 50 percent share increase in the last 10 years.
"We know many consumers have a strong need for utility vehicles, even as rising gas prices made fuel efficiency one of their top concerns," said Erich Merkle, Ford sales analyst. "Ford answered our customers' needs in the utility segment by offering its all-new 2.0-liter EcoBoost® engine in the 2012 Ford Explorer and Edge."
The completely reinvented Ford Explorer powered by EcoBoost delivers a class-leading EPA rating of 28 mpg on the highway, besting Honda Pilot and Toyota Highlander by 3 mpg. Since their introduction in the 2012 model year in September, sales of 2.0-liter EcoBoost-equipped Explorer and Edge are meeting expectations, garnering their strongest take rates in Orlando, Fla., Phoenix, Los Angeles, Houston and Dallas.
Ford continues to show its commitment to bringing EcoBoost technology to more than 90 percent of its North American lineup by offering 1.6-liter and 2.0-liter EcoBoost engines on the all-new Ford Escape. Ford's newest small SUV, the Escape will be introduced at the upcoming Los Angeles Auto Show.
# # #
Ford Motor Company, a global automotive industry leader based in Dearborn, Mich., manufactures or distributes automobiles across six continents. With about 166,000 employees and about 70 plants worldwide, the company's automotive brands include Ford and Lincoln. The company provides financial services through Ford Motor Credit Company. For more information regarding Ford's products, please visitwww.ford.com.
Author: