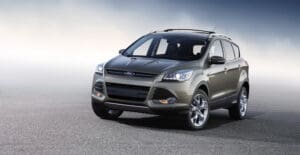 DEARBORN, Mich.
 – Ford is looking for a few dynamic, fun-loving individuals ready to compete in real-world challenges with the help of online followers – all while experiencing the all-new Ford Escape.
Having no idea where the Escape will take them, the two-person teams will use their ingenuity and creativity to reach their goal and spread the word about their adventures.
Ford is casting six two-person teams to participate in Escape Routes, a physical and virtual competition featuring the all-new Ford Escape
Expanding Ford's industry-leading use of social media, virtual viewers will follow the contestants through a series of challenges leveraging the new features and technologies of the all-new Escape including the hands-free liftgate and SYNC® with upgraded MyFord Touch®
One team will be selected for participation through online voting via escaperoutes.com
Ford kicked off Escape Routes in Los Angeles with actress Jenny McCarthy competing against the entire country in the world's largest "Words With Friends" game. Ford partnered with Zynga, the world's largest social game developer, to reveal the Escape through social gaming.
Escape Routes is a new online, interactive reality series featuring the all-new Ford Escape that will continue into 2012.
"Escape Routes takes the success of Ford's previous social engagement programs – Fiesta Movement and Focus Rally America – and overlays a new, innovative way to utilize social gaming in the real world," said Matt VanDyke, director, U.S. Marketing Communications for Ford. "This makes Escape Routes the first program to recognize participants' social influence as part of the game."
Ford and Zynga, the maker of Words With Friends and the world's largest social game developer, collaborated to reveal the all-new Escape in a novel integration of social platforms and mobile gaming. The use of mobile devices has grown, with nearly 33 percent of Americans owning smartphones and one out of three mobile phone users playing mobile games on their devices.
How it works
Escape Routes is a unique road-trip competition with real-world challenges featuring the all-new Ford Escape. The format allows the teams to solve physical and mental challenges in real time while their social circle of fans and followers play along virtually. Each week, the six two-person teams will arrive in a new city to compete in a series of spontaneous adventures and interactive social gaming challenges using their Escapes.
Each stop will engage their online followers and tap into the fabric of the local culture. All teams will live together, allowing live-streaming for fans to pull their social graph into the adventure.
Weekly episodes will launch on multiple distribution platforms to show highlights from each adventure. Additionally, short-form vignettes will promote the show and drive consumers to the deeper online/mobile platform. Each day, followers can tune into the live-streaming feed that allows them to become participants and impact the outcome of the program through a series of interactive challenges.
Each team will have its own personal content creator selected from blogging networks. This person will be embedded with Escape Routes and capture exclusive behind-the-scenes content that will be distributed through his or her social graph as well as other earned and owned platforms.
Casting call
The casting process begins now. Interested contestants can apply online at
escaperoutes.com
or attend one of 10 open casting calls across the country. Dates and times for the first casting calls are as follows:
Dec. 3            Los Angeles
Dec. 10         Chicago and New York
Dec. 17         Dallas and Boston
Jan. 7            Seattle and Miami
Jan. 14          San Francisco and Atlanta
More information on locations and times can be found on
escaperoutes.com
. Additionally, one of the six teams will be selected by America, as the entire country will have the opportunity to vote for their favorite through the Escape Routes website. Escape Routes kicks off in March.
The all-new Escape
The all-new Escape is Ford's newest sport utility vehicle. Nearly 2 million Escapes have been sold since the model was first introduced a decade ago, making it the best-selling small SUV in the United States. The new SUV has 11 exclusive features, including the class-exclusive hands-free liftgate, as well as fuel economy projected to top any vehicle of its kind on the market today.
About Ford Motor Company
Ford Motor Company, a global automotive industry leader based in Dearborn, Mich., manufactures or distributes automobiles across six continents. With about 166,000 employees and about 70 plants worldwide, the company's automotive brands include Ford and Lincoln. The company provides financial services through Ford Motor Credit Company. For more information regarding Ford's products, please visit

www.ford.com

.
Author: