DEARBORN, Mich. – A liftgate that opens with a kick of the foot, engines that offer 30 mpg or better without sacrificing power, voice-activated connectivity, and looks that combine style with function – these are some of the ways the all-new Ford Escape goes further for the customer.
New Ford Escape advertising campaign launches this week on television using actual Ford employees who went further in designing and engineering the popular, small SUV; TV spots showcase class-exclusive hands-free liftgate and powerful yet fuel-efficient EcoBoost
This fall Ford will launch "Escape My Life," an original episodic comedy series broadcast online that will showcase the new Escape in the context of everyday life by reaching out to a digital audience across wide syndication on websites like Hulu
Escape is the fastest-turning vehicle on Ford lots; sales are strong for the high-series SEL and Titanium, with these Escapes accounting for more than 50 percent of sales
Some of the faces behind these smart technologies are featured in a new ad campaign launching this week. Click here to view.
"These are not actors; the new ads feature actual Ford employees, who bring an authenticity to the spots rarely offered to the consumer," said Mike Gallagher, Marketing Communications manager. "This personalizes Ford's Go Further campaign."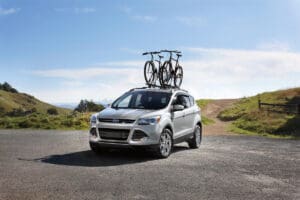 The ads build on the successful Go Further advertising campaign launched earlier this year, which features an ad about the all-new Escape.
Nielsen Automotive ratings found the initial Escape ad to have a high breakthrough rate, memorability and brand communication.
Employees going further
The television ads feature four unique capabilities available on the all-new Escape and the personalities behind them.
Scott Makowski, a powertrain engineer who worked on Escape's two available EcoBoost® engines, found a way to bring power and efficiency to the engines. Escape's 1.6-liter EcoBoost returns 33 mpg on the highway – best for its class with an automatic transmission – without sacrificing power (it produces 178 horsepower and 184 lb.-ft. of torque).
Erika Tsubaki, design supervisor for Ford of Europe, worked to ensure Escape's exterior and interior designs combine style with functionality. Tsubaki and her team designed an all-new SUV that provides more cargo space than the outgoing model, wrapped in a sleeker body.
Vince Mahe, the engineer behind the hands-free liftgate, was born in France and moved to the United States when he was 10. All around the world, Mahe noticed people often have their hands full. So Mahe and team engineered a way for people to open the liftgate of the all-new Escape with a simple kicking motion under the rear bumper.
Jennifer Brace wanted the connectivity system to be as intuitive and eager to please as man's best friend. Brace is an interface engineer who works on the SYNC® and MyFord Touch® systems available on the all-new Escape. Brace sought to ensure the MyFord Touch system is as engaging and responsive as a well-trained dog.
'Escape My Life'
In September, Ford will debut "Escape My Life," an episodic comedy series broadcast online and starring standup comedian Natasha Leggero, actor Joe Lo Truglio, who appeared in "Superbad" and "Pineapple Express," and the all-new Escape. "Zombieland" and upcoming "Gangster Squad" director Ruben Fleischer will direct the show.
The show couples Hollywood wardrobe designer Skylar Browning, played by Leggero, who is in need of a new car and in turn receives a Ford Escape, with Barry Gruber, played by Truglio, a product specialist who knows the ins and outs of the Escape.
"'Escape My Life' is a thoughtful and respectful approach to how Ford and the Escape engage with the consumer – we are not talking at them, we are showing them the Escape and how it is used in daily life," said Brock Winger, Digital Marketing manager for Ford.
The storyline unfolds with the Escape as a visual part of Skylar's lifestyle. Throughout the show, Skylar and Barry create an intriguing comic foil while showcasing the features of the all-new Escape.
Instead of traditional online banner ads and feature benefit commercials, "Escape My Life" presents the Escape in the context of everyday life.
"Escape My Life" will run for eight episodes on its own YouTube channel, as well as Hulu, AOL, MSN/Wonderwall, Glam Media, Tumblr, Facebook and other online outlets.
"The series reaches out to consumers where they are at in their media consumption behaviors – we are not interrupting them and forcing them to go somewhere else or stop what they are doing in order to watch and enjoy the content," Winger notes.
Early sales strong
Since arriving in dealerships this summer, Escape has been the fastest-turning vehicle on Ford lots. More than half of Escapes sold have been the SEL or Titanium series, with nearly half of all buyers opting for the hands-free liftgate and 40 percent choosing the panoramic Vista Roof®.
Sixty percent of Americans shopping for a vehicle this year will look at either a midsize car or small SUV, making Escape part of one of the most cross-shopped and fastest-growing segments in the auto industry.
The new Escape features more cargo space than previous models, three engine options all achieving 30 mpg or more on the highway, clever technologies like the hands-free liftgate and active park assist, as well as the SYNC with MyFord Touchconnectivity system.
About Ford Motor Company
Ford Motor Company, a global automotive industry leader based in Dearborn, Mich., manufactures or distributes automobiles across six continents. With about 168,000 employees and about 65 plants worldwide, the company's automotive brands include Ford and Lincoln. The company provides financial services through Ford Motor Credit Company. For more information regarding Ford and its products worldwide, please visit http://corporate.ford.com.
Author: