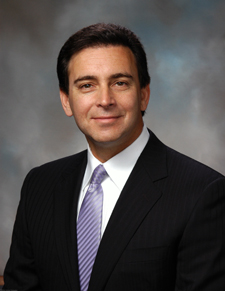 DEARBORN, MI – Ford Motor Company Chief Operating Officer Mark Fields has been named 2013-2014 Campaign Chair for United Way for Southeastern Michigan.
Outgoing chair Sergio Marchionne, Chrysler Group LLC Chairman and CEO, passed the torch to Fields.
Fields' role as 2013-2014 Campaign Chair builds on the thriving long-term partnership between Ford Motor Company and United Way. Ford has contributed more to the United Way for Southeastern Michigan than any other corporation since the organization was founded in 1949.
The company and United Way have collaborated to place countless Ford employees as volunteers in local nonprofit agencies, serve more than 1.1 million meals in metro Detroit through their Mobile Food Pantries program and build wheelchair ramps for dozens of local families, among other initiatives.
Ford has been a major presence in the metro Detroit community since the company was founded here more than 100 years ago, and Ford Fund – our philanthropic arm – has contributed significantly during the last 64 years since its founding. The company also works hand-in-hand on many charitable initiatives with its UAW partners.
Ford has invested hundreds of millions of dollars in nonprofit organizations and programs supporting education, community development, arts and culture. Its investment in Detroit during the past five years alone is roughly $60 million.
"Our One Ford team is dedicated to doing our part to build a better world, and that starts with the metro Detroit community where our company was founded," Fields said. "We look forward to supporting United Way's efforts by raising funds to support education, boost financial self-sufficiency and reduce hunger for those in need."
United Way for Southeastern Michigan President and CEO Michael J. Brennan thanked Ford for its support.
"We are now looking ahead to the coming year and thank incoming Campaign Chair Mark Fields for agreeing to carry the torch forward with a visionary approach to meeting our next annual goal," Brennan said. "We are grateful for his enthusiasm for and dedication to United Way's mission."
About Ford Motor Company
Ford Motor Company, a global automotive industry leader based in Dearborn, Mich., manufactures or distributes automobiles across six continents. With about 171,000 employees and about 65 plants worldwide, the company's automotive brands include Ford and Lincoln. The company provides financial services through Ford Motor Credit Company. For more information regarding Ford's products, please visit www.ford.com.
About United Way for Southeastern Michigan
United Way for Southeastern Michigan mobilizes the caring power of Wayne, Oakland and Macomb counties to improve lives in measurable and lasting ways throughout the region. The organization is led by a diverse group of volunteers from business, labor, government, human services, education and the community. United Way provides opportunities to invest in the metropolitan Detroit community through its annual Campaign and is a leader in convening partners to impact local residents each year by increasing economic self-sufficiency, protecting children and youth at risk, strengthening families, empowering neighborhoods and communities, and promoting health and wellness. For more information, visit LiveUnitedSEM.org.
Author: