SANTA MONICA, Calif. — Seven percent of new cars sold this year have manual transmission, reports Edmunds.com, the premier online resource for automotive information. The figure is a far cry from 20 years ago when one out of every four cars sold were manually operated, but it's a big jump from a rate of 3.9 percent last year, and is on pace for the highest rate of manual vehicle purchases since 2006.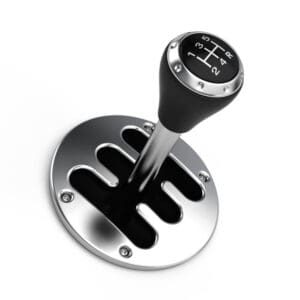 "A combination of factors – from the growing age of vehicle trade-ins bringing more manual drivers back to market, to a greater proportion of smaller cars on the road – is creating a small spike for stick shifts," says Edmunds.com Industry Analyst Ivan Drury. "But even though manual cars are on the rise now, they're on track to be virtually extinct in the next 15 to 20 years."
According to Edmunds.com data, 64 percent of all 2012 model year vehicles are available only with automatic transmission, compared to just 48 percent ten years ago. And while the few remaining loyalists ardently defend the appeal of stick shifts, those arguments are often based on myths that no longer apply to manual driving. Edmunds.com identifies five popular myths and lays out the facts that dilute the allure of driving stick:
1. Cars with manual transmission always get better fuel economy than cars with automatics.
Vehicles with manual transmissions generally are more fuel-efficient than their automatic counterparts, but not always, and not by much. Testing results indicate that the six-speed automatic version of the  2012 Ford Focus, for example, performs better than its manual sibling. The Focus gets 28 mpg in the city, 38 mpg on the highway and 31 mpg combined with its six-speed automatic transmission. But when equipped with a conventional manual transmission, the Focus gets 26 city/36 highway and 30 mpg combined. The 2012 Honda Fit with a manual transmission gets 27 mpg in the city, 33 mpg on the highway and 29 mpg combined. The automatic, by contrast, gets 28 city/35 highway and 31 mpg combined. Of course, individuals will get different results based on driving styles.
2. A car with a manual transmission costs less than the same model with an automatic.
In most cases, the manual version of a car will indeed cost less, but in many instances, it will be the same price as an automatic. Some examples include such GM vehicles as the 2012 Buick Regal GS, 2012 Cadillac CTS, 2012 Chevrolet Cruze and several trim levels of the Chevrolet Camaro.
3. The coolest sports cars only come with manual transmissions.
Many sports carmakers, such as Porsche and Lamborghini, offer a choice of a manual or automatic transmission in their product line. And still other sexy models – including some Ferraris and Jaguars – no longer offer traditional manual transmissions at all.
4. If your dream car comes with a standard manual transmission, you can always get an automatic as an option.
A small group of cars — mostly sport vehicles — only come with manuals. In 2012, the list includes the Audi TT RS, Aston Martin V12 Vantage, Fiat 500 Abarth, Ford Shelby GT500, Mazdaspeed 3 and Volkswagen Golf R.
5. Teenagers really, really want to learn to drive stick shifts.
Experts say that because young people seldom are exposed manual transmissions, they have little interest in learning how to drive them. Still, Edmunds.com offers an instructional article and video for teens and older drives alike who want to learn how to drive stick at http://www.edmunds.com/driving-tips/how-to-drive-a-stick-shift.html.
Learn more about stick shift facts and myths at http://www.edmunds.com/fuel-economy/five-myths-about-stick-shifts.html.
About Edmunds.com, Inc.
Edmunds.com, the premier online resource for automotive information, launched in 1995 as the first automotive information Web site. Its acclaimed mobile site, Edmunds.com Android App and five-star Edmunds iPhone and iPad apps make car pricing and other research tools available for car shoppers at dealerships and on the go. Its automotive enthusiast web site, InsideLine.com, is the most-read car publication of its kind. Its highly regarded mobile site and iPhone app features the wireless Web's most comprehensive gallery of automotive photos and videos. Edmunds.com Inc. is headquartered in Santa Monica, California, and maintains a satellite office in suburban Detroit. Follow Edmunds.com on Twitter@edmunds and fan Edmunds.com on Facebook.
Author: