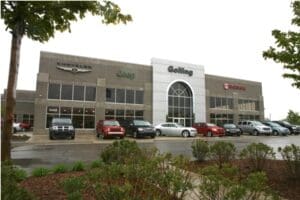 SANTA MONICA, Calif.  — The renaissance of Detroit's "Big Three" will be on full display at this year's North American International Auto Show in Detroit, reports Edmunds.com, the premier online resource for automotive information. Chrysler, Ford and General Motors will ride into their hometown show next week with their heads high after the three American automakers increased their combined U.S. market share in 2011 — the first annual increase since Edmunds.com started tracking sales records in 1991.
"American automakers have a lot of reasons to be excited right now, and we'll see some of that swagger come alive on their home turf next week," says Edmunds.com Senior Analyst Michelle Krebs. "It's been a long time since Detroit's Big Three has enjoyed this strong sense of momentum at the same time."
These manufacturers will offer some of the most intriguing debuts at this year's show, ranging from new luxury entries to a reboot of an old favorite:
·

         

Chrysler will reveal its new 

Dodge Dart

,

 which replaces the Caliber in the compact segment and faces a certain tough battle against top competitors Ford Focus, Hyundai Elantra and Chevy Cruze. The Dart nameplate will be revived from the dead 36 years after its original run ended in 1976.

·

         

Ford will showcase its much-anticipated 

2013 Ford Fusion

. This vehicle has quickly become a pillar in the midsize sedan segment, and Ford has carefully teased it via 

social media

 over the past several weeks.

·

         

General Motors' big unveil at this year's show will be the 

2013 Cadillac ATS

. This entry-level luxury sedan plans to make a run at European competitors BMW 3 Series, Mercedes-Benz C-Class and Audi A4.
Foreign automakers will also have an opportunity to make their marks on this year's show. Hyundai hopes to make a splash with the 2013 Hyundai Genesis Coupeand the 2013 Hyundai Veloster Turbo. Toyota is introducing two highly anticipated concepts: the NS4 plug-in hybrid and a Lexus luxury concept. And Volvo will make another effort to join the hybrid market by introducing the Volvo XC60 Plug-In Hybrid Concept .
Honda will also reveal a new Accord Coupe concept, hoping that the show will be a turning point after a difficult 2011. "In 2011, Honda was battered more than any other automaker by the March 11 earthquake and tsunami in Japan that triggered worldwide production disruptions that led to vehicle shortages at U.S. dealerships. Looking ahead, Honda's portfolio will include the recently revamped CR-V and Civic with a new Accord coming on in the fall. The trio of vehicles account for two-thirds of Honda's total U.S. sales," noted Edmunds.com Senior Analyst Michelle Krebs in her full report on Honda at http://www.edmunds.com/car-news/honda-plans-to-roar-back-in-2012.html .
For a detailed look at all the vehicles making news at this year's North American International Auto Show, please visit Edmunds' InsideLine.com athttp://www.insideline.com/auto-shows/detroit/2012/.
About Edmunds.com, Inc. (http://www.edmunds.com/help/about/index.html)
Edmunds.com, the premier online resource for automotive information, launched in 1995 as the first automotive information Web site. Its revered mobile site and five-star app makes car pricing and other research tools available for car shoppers at dealerships and otherwise on the go. Its automotive enthusiast Web site, InsideLine.com, is the most-read car publication of its kind. Its highly regarded mobile site and app features the wireless Web's highest quality car photos and videos. Edmunds.com Inc. is headquartered in Santa Monica, California, and maintains a satellite office in suburban Detroit. Follow Edmunds.com onTwitter@edmunds and like Edmunds.com on Facebook at http://www.facebook.com/edmunds. 
Author: