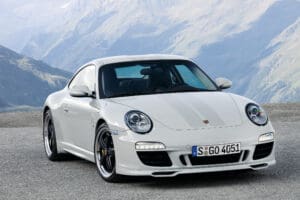 SANTA MONICA, Calif. — Female car buyers are making up a larger customer base for some of the top domestic auto brands, but none approach the gains that Porsche has made with women this year, according to an analysis by Edmunds.com, the premier online resource for automotive information.
The analysis found that of all automakers, Porsche has made the largest relative market share gains among women nationwide over the past year. From January through August 2011 23 percent of Porsche buyers were female, compared to 19 percent during the same period last year. The growth accounts for a 21.1 percent proportional change, year over year.
Biggest Increase in U.S. Female Market Share, By Brand
Rank  

Brand

Female Share
Jan-Aug 2010

Female Share
Jan-Aug 2011

Proportional Change

1

Porsche

19%

23%

21.1%

2

Buick

35%

38%

8.6%

3

Dodge

27%

29%

7.4%

4

Chevrolet

31%

33%

6.5%

5

Infiniti

33%

35%

6.1%

6

GMC

26%

27%

3.8%

7

Ford

31%

32%

3.2%

8

Lincoln

35%

36%

2.9%

9

Jeep

36%

37%

2.8%

10

Chrysler

37%

38%

2.7%

 

OVERALL

39%

39%

0.0%
Source: Polk
Edmunds.com's analysis found that eight of the ten car brands with the fastest growing female market shares were domestic automakers. Among those domestic brands, Buick has made the largest market share gains among women, increasing the proportion by 8.6 percent year over year.
Trailing just behind Buick were Dodge (+7.4%) and Chevrolet (+6.5%).  Luxury Japanese make Infiniti (+6.1%) also made the top 10. Overall, 39 percent of all new cars have been registered by women in the U.S. this year, essentially flat compared to last year.
"One thing that these ten brands have in common is that their shares of female buyers all fall below the industry average of 39 percent," notes Edmunds.com Senior Analyst Jessica Caldwell. "It's smart for these brands to develop new and refreshed products that have a stronger appeal with women so that they don't miss out on an important part of the market."
Foreign makes dominated the list of the largest decreases in female market share. Mini has seen its market share of females shift from 48 percent in the first eight months of 2010 to 46 percent during the same period in 2011, for a proportional change of -4.2 percent. Fellow European competitors Audi (-2.9%), Volvo (-2.3%) and Volkswagen (-2.3%) are next on the list, followed by Korean automotive giant Hyundai (-2.3%).
To perform this study, Edmunds.com analysts examined new car registration data provided by Polk for the periods January 2010-August 2010 and January 2011-August 2011. Only brands selling a minimum of 1,500 vehicles to females nationwide during each time period were considered for the analysis.
For more automotive trends and analysis, please visit Edmunds.com's Data Center at http://www.autoobserver.com/car-data-center/.
About Edmunds.com, Inc. (http://www.edmunds.com/help/about/index.html)
Edmunds.com Inc. publishes Web sites that empower, engage and educate automotive consumers, enthusiasts and insiders. Edmunds.com, the premier online resource for automotive information, launched in 1995 as the first automotive information Web site. Its mobile site, accessible from any smartphone atwww.edmunds.com, makes car pricing and other research tools available for car shoppers at dealerships and otherwise on the go. InsideLine.com is the most-read automotive enthusiast Web site. Its mobile site, accessible from any smartphone at www.insideline.com, features the wireless Web's highest quality car photos and videos. AutoObserver.com provides insightful automotive industry commentary and analysis. Edmunds.com Inc. is headquartered in Santa Monica, California, and maintains a satellite office in suburban Detroit. Follow Edmunds.com on Twitter@edmunds and like Edmunds.com on Facebook at http://www.facebook.com/edmunds.
Author: