With School out for Summer, Edmunds.com Urges Parents to Consider Midsize Sedans for Teen Drivers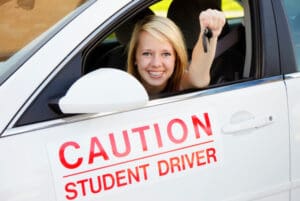 SANTA MONICA, Calif.  — With school out of session and many teen drivers spending more time on the road this summer, parents across the country are deliberating which vehicles are best for their kids. But before they consider any other vehicle, Edmunds.com, the premier online resource for automotive information, recommends that parents turn to midsize cars.
"Midsize sedans offer teen drivers the best combination of safety, reliability and affordability," says Carroll Lachnit, Consumer Advice Editor at Edmunds.com. "Small cars might be more affordable, but they don't offer as much protection in a collision as larger vehicles. And large cars might hold up better in a crash, but they can be difficult to maneuver and could be intimidating for first-time drivers. Some experts think new SUVs with stability control are great choices for teen drivers, but there is far less risk of a rollover in a sedan."
Edmunds.com editors evaluated every vehicle in the midsize segment and picked ten new and used vehicles that parents should consider for their teenaged drivers. Those cars are:
More details on Edmunds.com's selections can be found at http://www.edmunds.com/car-buying/the-best-cars-for-teen-drivers.html.
While newer cars have the most updated safety technology, parents have good reason to consider lightly used cars as well.
"When it comes to safety, a vehicle's age is less important than the features it offers," says Lachnit. "The list of must-have safety amenities includes airbags, an antilock brake system (ABS) and electronic stability control, and these features have been around for many years."
The shift in most midsize vehicles from V6 engines to four-cylinder engines is also a proven safety benefit for teen drivers. A four-cylinder engine has limited acceleration capabilities, and this makes it less likely that teens will push the vehicle to extralegal speeds. Other advantages include better fuel economy and a smaller carbon footprint.
More information for how to pick a safe car for your teen can be found at http://www.edmunds.com/car-buying/choosing-a-safe-car-for-your-teen-driver.html.
A car's reliability and its True Cost to Own® (TCO®) are two more important factors for teen drivers. Edmunds.com has more details on how parents can weigh these two considerations at http://www.edmunds.com/car-buying/car-shopping-for-teen-drivers-reliability-and-true-cost-to-own.html.
About Edmunds.com, Inc.
Edmunds.com, the premier online resource for automotive information, launched in 1995 as the first automotive information Web site. Its acclaimed mobile site, Edmunds.com Android App and five-star Edmunds iPhone and iPad apps make car pricing and other research tools available for car shoppers at dealerships and on the go. Its automotive enthusiast web site, InsideLine.com, is the most-read car publication of its kind. Its highly regarded mobile site and iPhone app features the wireless Web's most comprehensive gallery of automotive photos and videos. Edmunds.com Inc. is headquartered in Santa Monica, California, and maintains a satellite office in suburban Detroit. Follow Edmunds.com on Twitter@edmunds and fan Edmunds.com on Facebook.
Author: