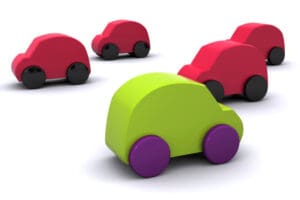 SANTA MONICA, Calif. — Automaker incentives remained stable in August but the numbers this month don't tell the full story, reports Edmunds.com, the premier resource for automotive information. According to Edmunds.com's True Cost of Incentives® (TCI®), the auto industry spent $2,274 per vehicle this month, up 1.7 percent from July, and down 4.7 percent from August 2011. But the reported stability of incentive spending doesn't factor in some of the "hidden incentives" that dealers are known to use.
"Automakers and dealers have been very creative this summer with how they're packaging their deals and boosting sales numbers, whether through controversial stair-step incentive programs or by working with lenders to expand credit," says Edmunds.com Vice Chairman Jeremy Anwyl. "Many of these programs are essentially impossible to quantify, but their cost to the manufacturers is real."
Average True Cost of Incentives® (TCI®) by Car Manufacturer
Manufacturer
Aug-12
Jul-12
Aug-11
Aug 2012 vs July 2012
Aug 2012 vs Aug 2011
Chrysler
$2,761
$2,777
$2,909
-0.6%
-5.1%
Ford
$2,844
$2,763
$2,680
2.9%
6.1%
GM
$3,147
$3,194
$3,096
-1.5%
1.6%
Honda
$1,554
$1,224
$1,666
27.0%
-6.7%
Nissan
$2,623
$2,869
$2,457
-8.6%
6.8%
Toyota
$1,676
$1,623
$2,206
3.3%
-24.0%
Industry
$2,274
$2,237
$2,385
1.7%
-4.7%
One example of these "hidden incentives" was revealed earlier this month when BMW made a special offer to dealers on the last day of July. According to reports, the dealers received discounts of as much as $7,000 per 2012-model car, as long as each vehicle was reported as sold on that day only. The cars could then be offered to retail buyers at strong discounts with dealers still turning a good profit.
The most notable incentives movement among the major automakers came from Honda, whose spending jumped 27 percent from July to August. Much of the increase was for the 2012 Honda Accord, which is in full sell-down mode to make room for the all-new 2013 model.
As always, shoppers can find the vehicles with the most compelling deals on Edmunds.com's True Market Value® Deals of the Month page. Edmunds.com also helps consumers get a sense of whether right now is a good time to buy specific new car models with its TMV® Predicted Price Trends.
Edmunds.com's monthly True Cost of Incentives® (TCI®) report takes into account all automakers' various U.S. incentives programs, including subvented interest rates and lease programs, as well as cash rebates to consumers and dealers. To ensure the greatest possible accuracy, Edmunds.com bases its calculations on sales volume, including the mix of vehicle makes and models for each month, as well as on the proportion of vehicles for which each type of incentive was used.
About Edmunds.com, Inc.
At Edmunds.com, we're committed to helping people find the car that meets their every need. Almost 18 million visitors use our research, shopping and buying tools every month to make an easy and informed decision on their next new or used car. Whether you're at the dealership or on the go, we're always by your side with our five-star Edmunds.com iPhone and iPad apps and our Edmunds.com Android App. Our comprehensive car reviews, shopping tips, photos, videos and feature stories offer a friendly and authentic approach to the automotive world. We're based in Santa Monica, Calif., but you can connect with us from anywhere by following @Edmunds on Twitter or by becoming a fan of Edmunds.com on Facebook.
Author: