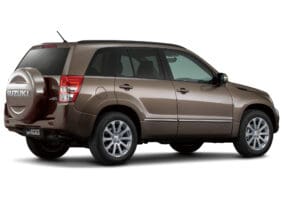 SANTA MONICA, Calif. — When American Suzuki announced earlier this month that it will discontinue U.S. sales, there was a lot of speculation that prices on remaining Suzuki cars and trucks would hit rock bottom, just as Saab prices plummeted thousands of dollars soon after that company made a similar announcement in 2011. But buyers shouldn't expect prices to fall much lower than they already have, reports Edmunds.com, the premier resource for car shopping and automotive information.
"We're not anticipating the fire sale that occurred last year when Saab went under," says Edmunds.com Consumer Advice Editor Ronald Montoya. "Unlike Saab, new Suzuki vehicles will continue to offer valid warranties, so that preserves a little extra long-term value on the car."
Even if prices don't fall through the floor, interested buyers can still get a very good deal on a new Suzuki. According to Edmunds.com's True Market Value ® (TMV®) pricing, buyers were already paying a few hundred dollars below invoice, on average, for Suzuki vehicles before the company's announcement. The TMV® price on a 2012 Suzuki Grand Vitara in Southern California, for example, is listed at more than $300 below invoice.
Meanwhile, many of those who already own a Suzuki have been asking Edmunds.com what they can expect with their cars in light of the bankruptcy. Some of the key takeaways for Suzuki owners include:
All warranties will continue to be honored at Suzuki dealerships.
Edmunds.com projects that prices for used Suzuki vehicles will drop, although not by much, since prices were already low compared to other brands.
Check with your local Suzuki service department and ask if it will still service your Suzuki vehicle, even if and when the dealership rebrands itself.
Owners who financed their vehicles through American Suzuki Financial should continue to make their payments as they normally would until they hear directly from the bank.
If a Suzuki dealership is no longer open when your lease term expires, contact the Suzuki customer hotline at (877) 465-4819 for information on how to handle your lease return.
More detailed answers to questions from Suzuki owners can be found at http://www.edmunds.com/car-buying/suzuki-owners-what-you-need-to-know-post-bankruptcy.html.
About Edmunds.com, Inc.
At Edmunds.com, we're committed to helping people find the car that meets their every need. Almost 18 million visitors use our research, shopping and buying tools every month to make an easy and informed decision on their next new or used car. Whether you're at the dealership or on the go, we're always by your side with our five-star Edmunds.com  iPhone and iPad apps and our Edmunds.com Android App. Our comprehensive car reviews, shopping tips, photos, videos and feature stories offer a friendly and authentic approach to the automotive world. We're based in Santa Monica, Calif., but you can connect with us from anywhere by following @Edmunds on Twitter or by becoming a fan of Edmunds.com on Facebook.
Author: