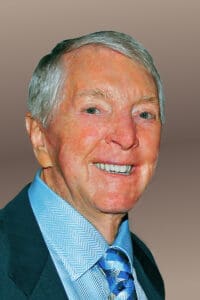 South Florida automotive pioneer, Ed Morse, who started his automotive career in 1946, passed away on Friday, June 29 of natural causes at the age of 91. Over the years, as Chairman and with his son, Ted, his company grew to become one of the most respected automotive dealer groups in the country and currently has 15 locations throughout Florida.
Born in 1921, Morse served in the U.S. Army Air Corps as navigator on a B-25 during World War II.  During a mission in the South Pacific when the pilot was wounded and the co-pilot killed, Ed assisted in flying the plane back to their base in New Guinea earning him the Distinguished Flying Cross, one of the nation's highest military honors.  Other wartime honors included the Oak Leaf with Clusters.
After the war, his first job was as a doorman parking cars for guests at a Miami Beach hotel.  In 1946, along with his father Alex, Ed started a twenty-car fleet rental company, Morse Motors.  When their fleet grew to 2,000 vehicles, it merged with National Car Rental where Ed served as Chief Executive Officer.  Morse bought into his first dealership in1961, Morse Holland Ford in Miami.  In 1968 began building a special relationship with General Motors that started with Ed Morse Chevrolet in Lauderhill and Ed Morse Bayview Cadillac in Fort Lauderdale.
Eight additional dealerships were added in the 1980's and twenty more were added in the 1990's.  Today, the Group consists of 15 dealerships, that house 17 automotive franchises and 10 different brands – both domestic and import. Florida locations run from Riviera Beach, Delray Beach, Fort Lauderdale to Sunrise on the East Coast; Port Richey, Tampa, and Brandon on the West Coast, as well as Lakeland in Central Florida.
Throughout the years The Ed Morse Automotive Group has been recognized as the "World's Largest Automotive Dealer," by Automotive Age Magazine; "Dealer of the Year" and "Largest Volume Chevrolet, Cadillac and Mazda Dealer" by Automotive News; and "Quality Dealer" by Time Magazine.  Ed and the company also earned and received the "Cadillac Dealer Of The Year" award multiple times, the "Honda President's Award" multiple times, the "Toyota Chairman's Council" award multiple times, the "Mazda President's Award" multiple times, and the General Motors "Jack Smith Leadership Award" multiple times.
He has supported numerous charities throughout South Florida over the years including the Muscular Dystrophy Association, of which his company has raised more than $1.3 million dollars through The Ed Morse annual MDA golf tournament.  Other charities he has supported include the American Diabetes Association, American Heart Association, American Red Cross, Boys & Girls Clubs, the Dan Marino Foundation, Feeding America, Women in Distress, Toys for Tots, Humane Society of Broward County, Cystic Fibrosis Foundation.
As devoted as Morse was to his company's more than 1,000 employees, and to the community, above all he cherished his family, many of whom worked and continue to work within the company.  He is survived by his wife Carol; son Ted (Patti) and daughter Betty Anne Beaver (Dick); grandchildren Teddy Morse (Erica), Catherine Morse Martinez (Chris), Richard Danahy (Laura), and Brian Danahy (Jolie); 5 great-grandchildren; and two surviving sisters Nancy Stringer (Jack) and Pricilla Ropp.  He was predeceased by his brother Alex.
Services for Ed Morse will be held FAU Auditorium on Friday July 6th from 6 to 8 p.m.  In lieu of flowers, the family is requesting donations in Ed's name to the Muscular Dystrophy Association and The Lupus Foundation of America.
Author: