After two women test drove a Mercedes Benz ML at Atlanta Classic Cars recently, the sales team decided to take advantage of the EasyCare CoVideo program and get creative.
Instead of the standard email follow-up response to thank them for coming in, the sales associate stood in front of the model each of the ladies had driven and reminded them in less than 30 seconds how much they enjoyed the ride. The video e-mail was creative, fun and within two weeks, both women were driving out of the dealership with their new vehicles.
"So we're two for two and we're excited to continue using the program," said Joanna Ellis of Atlanta Classic Cars. "We have used the iflip camera, the desktop webcam and we're really looking forward to expanding our use of the program too." EasyCare CoVideo is also available for Android and will soon be fully compatible for recording on iPhone and iPad.
More and more car dealerships across the country are feeling the same way. EasyCare CoVideo software provides an easy way to record, save, manage, and send video messages. All videos are housed in a web-based, password protected video library hosted on secure cloud servers.
Joe Healy, the Internet director at Lone Star Chevrolet in Houston, Texas, said their dealership has been using the program for over two years.
"One of the reasons I like it is I can send a video much quicker than I can possibly type a memo. We use it every day to communicate not only with our customers, but with each other," he said. One reason we use it is to separate ourselves from the competition. When a lead comes in, we immediately send an EasyCare CoVideo. It's more important and effective than the typical auto responder because we know it is viewed more often."
Healy said his Internet managers like it because they get a notification when the e-mail is opened and can follow up while the customer is still sitting in front of their computer.
"Many times they'll even joke: 'Hey, I just looked at your video,'" he said. "Just like the government has a program: eat five fruits and vegetables a day, our saying here at Lone Star is send at least five videos every single day. My number one salesman actually holds the record. He sent 107 videos in one day and he sold 26 cars that month."
EasyCare CEO Larry Dorfman said the resources it offers through EasyCare CoVideo were developed to help dealers find a unique way to communicate better with their database and prospective customers.
"We saw this as an opportunity to introduce it to the more than 1,400 dealers we serve, as well as to introduce new dealers to EasyCare and our mission to help dealers get more customers, more profits and more retention. Using EasyCare CoVideo, dealers can turbo charge their message and make it much more personal than a typical text e-mail," he said. "The response to the program from dealers, managers, salespeople and service personnel has been nothing short of remarkable. Dealers using the program are selling more vehicles and increasing customer retention in service. That's what we were looking for."
"When everybody's out there texting and writing and you're using this kind of video tool, it really sets a dealership apart from the others." Larry Dorfman
"EasyCare employees use the program all the time to communicate internally as well as to our dealer customers. Most find that it only takes a few videos to get totally comfortable with recording and sending videos instead of e-mails. The program isn't designed to replace all text e-mails. It is designed to replace those that really matter by adding audio and visual to standard text.
"From the product itself, all the way through the support you get with it, it's phenomenal," said Ron Ewer of Legacy Ford in Houston, Texas. "I look forward to many more years with it. Customers love it. We've been using it quite heavily on some e-mail blasts."
The software was developed on the technology campus of Purdue University by a local entrepreneur and a young software programmer. "What we saw was an opportunity to take a piece of software that was developed at a high level, but still needing a lot of infrastructure," said Dorfman. "We had the resources and the connections in the automotive business to take it to the next level."
According to a study by Dr. Albert Mehrabian, words and text only represent 7% of how we communicate. The other 93% is via visual and audio. So using video to communicate internally as well as externally clearly should result in better communication for the dealership.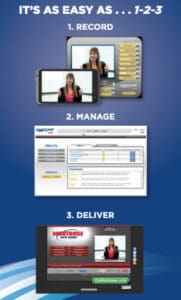 Changing the way to capture customers
EasyCare introduced the "new" EasyCare CoVideo to dealers at NADA in 2011. Since then dealers across the country have begun to engage with their customers and prospects in a totally different way. Some of the uses of EasyCare CoVideo are:
Responding with video to Internet leads.
Following up with a prospect that visited the dealership, but didn't buy.
Sending out automated video communications from the dealership CRM and service retention software.
"EasyCare CoVideo really sets us apart from the competition." Paul Milano
With the increase in use of 3G and 4G smartphones, more consumers are choosing to be communicated via this format. EasyCare CoVideo communication will play on all smartphones including Droid and iPhone.
Dorfman added, "When everybody's out there texting and writing and you're using this kind of video tool, it really sets a dealership apart from the others."
"With the different templates and endless types of messages that can be sent, we have an enormous amount of flexibility getting the right message to our customers in a way that most customers are unfamiliar with," Paul Milano of Montrose Auto Group in Alliance, Ohio said. "I like the ability and flexibility of EasyCare CoVideo. It allows my service management teams to instantly connect and communicate to our customers."
"From the product itself, all the way through the support you get with it, it's phenomenal." Ron Ewer
Milano said most people feel traditional emails are getting old. "Everybody is getting inundated with traditional e-mails," he said. "EasyCare CoVideo allows us to deliver a personal message directly to the customer. This has a much bigger impact than a traditional text or e-mail message."
This gives dealers like Milano an opportunity to immediately establish a connection with potential customers. "We instantly start building a rapport with the customer from the moment the EasyCare CoVideo e-mail is opened," he said. "In our competitive business environment it's all about building rapport and standing out in the crowd. The better relationship our staff builds with our customers, the more successful they are having customers spend money with us. Our goal is to stand out above and beyond our competition and keep our customers away from our competitors. EasyCare CoVideo gives us the competitive edge."
There's nothing like a satisfied customer
Like the customers at Atlanta Classic Cars, the EasyCare team is receiving a positive customer response for a number of reasons.
Customers watching videos from Joanna Ellis of Atlanta Classic Cars can see a warm touch with a bouquet of yellow roses behind her on the desk. Jenn Hamilton's video from Subaru of Gwinnett in Duluth, Georgia, has her sitting in front of an automobile with a big red bow around it and classical music plays in the background as she talks.
"…our saying at Lone Star is send at least five videos every single day. My number one salesman actually holds the record. He sent 107 videos in one day and he sold 26 cars that month." Joe Healy
"EasyCare CoVideo has been helpful in setting our dealership apart from some of the other dealerships in town because it's a different way for people to communicate with you, a different way for people to do business," Hamilton said. "It makes it a lot more personal. You can just do something sitting at your desk. You can do it from home even. It's just easy. Press a button, record and go. We probably use EasyCare CoVideo most in sending out initial replies to people when they inquire online just following up with them. They love it because they see you in the dealership and they say OK, I know who you are and they like it and it's a neat way for us to connect. And they feel like they've been here before. I would absolutely recommend EasyCare CoVideo to anyone who is looking for something different and unique."
Milano agrees. "In the past we have sent an e-mail blast about an upcoming sale event. We tried to get creative on the look of the ad (color, wording, and creative templates). With EasyCare CoVideo you can see and hear the excitement in our managers. It is as if you were standing across from the customer to deliver the message."
"I like the ability to instantly be able to touch my customers in a way that they are not accustomed too when they open an e-mail," said Milano. "I have sent a personal thank you to many customers and vendors using EasyCare CoVideo and received an enormous amount of positive feedback. EasyCare CoVideo really sets us apart from the competition."
Mike Delong is the national brand manager for EasyCare CoVideo. Delong has been in the automotive business for more than 25 years. He began his career as an F&I manager. Over the years he has held positions from sales manager to general manager to operating partner with experience in both domestic as well as import brands. Delong joined EasyCare in August 2010. He avidly uses EasyCare CoVideo. Visit easycarecovideo.com. For more information on EasyCare, visit easycare.com. You can reach out to Mike at mdelong@easycare.com.
Author: