Will your dealership still exist in 10 years? Why will some dealerships be out of business in the next 10 years? Because some dealerships are too stubborn to adjust to the market changes we have seen and continue to see taking place in our market.
Today's dealerships are facing a major crisis to their future survival. Kevin Frye, e-commerce director at Jeff Wyler Automotive Family, will share with you what that crisis is, and why it should be your biggest concern for the future. You will learn six crucial steps you must take to not only survive, but to also dominate your digital market. Real-life examples, Internet search data, and clips from movies and TV shows will show how the modern customer behaves, and how your dealership must adapt to be a highly efficient digital dealer. Kevin promises you will walk away with a list of "things to do" when you return to the dealership that will make you a better digital dealer.  Kevin Frye is sharing his expertise with you.
What will you learn and what action items will you take back to the dealership?
1. Learn about the most important crisis to face dealerships in the last 30 years – and how to best address it.
2. Learn how to identify exactly what your modern day customers are looking for online – and what they expect from you.
3. Learn how to implement effective digital tools to meet the needs of your online shoppers
4. Learn how to identify five ways you can change a negative dealership image online and on the showroom floor.

Kevin Frye is the e-commerce director of the Jeff Wyler Automotive Family, one of the top 50 dealership groups in the United States. He has been a leader in the industry with the use of SEO, website design and engagement, as well as pioneering multiple e-commerce initiatives. Before his work with Jeff Wyler, Frye was an Internet entrepreneur who pioneered selling cars online for both dealerships and individual consumers, selling over 500 cars on eBay in one year alone in the early years of e-commerce. Frye was a Naval Aviator for eight years, with extensive flight hours in Desert Shield and Operation Southern Watch, as well as over 200 combat hours in Desert Storm. He has used the leadership skills he learned in the Navy to keep the Jeff Wyler Automotive Family at the front edge of automotive e-commerce.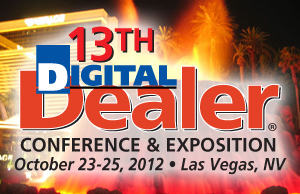 A 13th Digital Dealer® Conference & Exposition Featured Speaker: Kevin Frye presents:  The Digital Crisis that is Slowly Killing your Dealership: Six crucial steps to your dealership's future survival.
We're building out the agenda, selecting speakers and topics for more than 100 sessions that are laser-focused on all things digital.
The Digital Dealer Conference & Exposition is the premier educational conference and expo dedicated to Internet and technology solutions for automotive professionals. Digital Dealer events deliver the largest array of speakers, peer to peer opportunities, and exhibit hall offerings – all carefully designed to impart cutting edge business strategies. With an audience of the industry's most progressive dealers and managers and the most innovative conference format, Digital Dealer provides the ultimate learning and networking environment.  For more information, visit:  www.DigitalDealerConference.com
Author: