As dealers and managers, you are often promised by your vendors real data, analytics and transparency. When you multiply this by a minimum of eight vendors supplying all that… Ex: Web provider, call tracking, Cars.com, AutoTrader.com, live chat, CRM provider, lead providers and the list goes on…where in the world should you begin to organize and digest this information?
Victor Vella, the e-commerce director of Spitzer Automotive, will show you why it's important to merge all this data together to create one Internet traffic report. In addition, he'll show you why it works, how it works and how to do it. You'll walk away from this workshop with powerful information that will help you turn your analytics into results. Victor Vella is sharing his expertise with you.
What will you learn and what action items will you take back to the dealership?
Learn why you need to create your own Internet traffic report.
Learn how to create an Internet traffic report that is specific to your needs.
Learn how to drive results based on the personal Internet traffic report that you have created.
Victor Vella is the e-commerce director of Spitzer Automotive, a dealer group of 15 dealerships nationwide. Vella got his start in sales as a home loan banker at Quicken Loans selling their products over the phone and Internet. He recently joined Spitzer's BDC team and moved up the ranks to handle e-commerce for the group. Vella and his team thrive on using the analytics they already have to make decisions and drive results.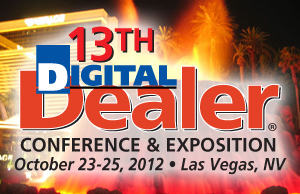 A 13th Digital Dealer® Conference & Exposition Featured Speaker: Victor Vella presents:  Data Overload: Turning analytics into results.
We're building out the agenda, selecting speakers and topics for more than 100 sessions that are laser-focused on all things digital.
The Digital Dealer Conference & Exposition is the premier educational conference and expo dedicated to Internet and technology solutions for automotive professionals. Digital Dealer events deliver the largest array of speakers, peer to peer opportunities, and exhibit hall offerings – all carefully designed to impart cutting edge business strategies. With an audience of the industry's most progressive dealers and managers and the most innovative conference format, Digital Dealer provides the ultimate learning and networking environment.
For more information, visit:  www.DigitalDealerConference.com
Author: