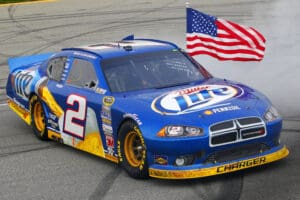 HOMESTEAD, Fla. –  Weekend motorsports recap: Keselowski gives Dodge first Sprint Cup Championship since 1975.
Keselowski Gives Penske Racing First NASCAR Sprint Cup Championship
Hornish Finishes Fourth In Final Nationwide Point Standings
Late-Race Accident Ends Blaney's NCWTS Season on Disappointing Note
CHASE FOR THE SPRINT CUP
Throughout the 2012 season, pundits questioned whether a two-car team could challenge the bigger multi-car teams for the biggest prize in NASCAR. The question was answered Sunday at Homestead-Miami Speedway – ABSOLUTELY – if the driver is Brad Keselowski and the team is the No. 2 Miller Lite Dodge Charger from Penske Racing – The Michigan Connection.
Keselowski played it safe in the closing laps after clinching the title when five-time champion Jimmie Johnson had mechanical problems late in the race. He finished 16th but that was secondary to the ultimate goal, the Sprint Cup. It's the first NASCAR Sprint Cup Series championship for Dodge since 1975 (Richard Petty) and the first ever Sprint Cup title for Roger Penske and Penske Racing.
Final 2012 Chase for the NASCAR Sprint Cup Standings
1. BRAD KESELOWSKI 2400 7. Matt Kenseth -76
2. Clint Bowyer -39 8. Kevin Harvick -79
3. Jimmie Johnson -40 9. Tony Stewart -89
4. Kasey Kahne -55 10. Jeff Gordon -97
5. Greg Biffle -68 11. Martin Truex Jr. -101
6. Denny Hamlin -71 12. Dale Earnhardt Jr. -155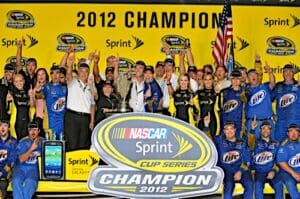 NASCAR SPRINT CUP SERIES (NSCS)
Brad Keselowski is the 2012 NASCAR Sprint Cup Series champion. Roger Penske has his first title in NASCAR's premier series, a quest which started in 1972 and 12 years before Keselowski was born. Dodge claimed its fifth title and first since 1975 with Richard Petty. It comes in the third full season of competition in NASCAR's premier series for the Rochester Hills native.
Keselowski needed 125 starts to win his first championship, the fewest starts since Jeff Gordon in 1995 (93). In the 10-race Chase, he had two wins, three top-five and eight top-10 finishes. For the year, the ledger reads five wins along with 13 top-five and 23 top-10 finishes.
"I've got the best team in racing and I'm just so thrilled to be a part of it," said Keselowski. "They made incredible sacrifices and I'm just so fortunate to have them
around me. I couldn't do it without the support of everyone on the Miller Lite Dodge."
The Twitter-loving driver claimed the title by a 39-point advantage but the afternoon wasn't without its share of anxious moments. In fact at one point Jimmie Johnson had turned the 20-point deficit he faced entering the event into a seven-point advantage when the "Blue Deuce" was off sequence with the five-time champion.
Crew chief Paul Wolfe called for a pit stop for fuel on lap 206. It's turned out to be a critical call as the "Blue Deuce" sputtered onto pit road, out of fuel. When he returned to the track, it was critical the green-flag cycle run its course.
Johnson's championship hopes began to unravel just a few laps later. During his green-flag stop, a missing lug nut on the left rear forced a pass-through penalty which put the No. 48 a lap down. The knockout blow came on Lap 224 when the No. 48 retired with mechanical problems (driveline). He finished 36th.
From there, Wolfe and the No. 2 Dodge team played it safe, taking on four tires during the final pit stop. Keselowski finished 15th.
"It's an amazing accomplishment for everyone," said Ralph Gilles, President and CEO of SRT Brand and Motorsports. "Obviously this project wasn't one that started yesterday. A lot of talented people have spent countless hours to make this championship possible. That's the Dodge way. It's always been the Dodge way."
Keselowski is the second driver in NASCAR history to both win the Sprint Cup and the Nationwide Series championships. He won the Nationwide title in a Dodge Challenger in 2010. The other driver was Bobby Labonte who accomplished the fete.
It was probably destiny that Keselowski won both championships in a Dodge. His father, Bob, was a long-time Dodge/RAM competitor and was quick to show his loyalty during the victory celebration by saying "winning the championship in a Dodge is icing on the cake."
Penske has been fielding cars in NASCAR since 1972. His previous best finish in the standings came in 1993 when NASCAR Hall of Fame inductee Rusty Wallace finished second.
"I want to thank Dodge for what they've done and certainly Miller Lite and Shell/Pennzoil," said Penske. "I just can't take my hat off enough to all the great guys on our team from Brad, Paul Wolfe (crew chief), Travis Geisler (Director of Competition) and when you think about Mike Nelson (Vice President of Operations) and all those guys who build these great engines – not one failure all year in that Dodge engine. This win goes to all the servicemen around the world who have done so much to keep us safe and secure. For me, it's just a double-win."
The championship has special meaning for Keselowski after the torrid 10-race Chase with Johnson, the five-time champion. "He's the best," said Keselowski. "He proved it here today. He was going to win this damn race. I know that. We were not as
fast as we wanted to be and we'd be the first to admit that but my guys never gave up. We kept working and at the end we were back up enough to where it wouldn't have mattered if he's won. That made me feel a lot better. My guys did a great job all year long and especially in the Chase. I'm lucky to have them."
Sam Hornish Jr. ran in the top 10 much of the day in the No. 22 Shell/Pennzoil Dodge Charger. Hornish had to make an extra pit stop late in the race for fuel and finished 22nd.
"I wanted to finish a lot better than 22nd but I didn't have any false hopes that we were going to win today," said Hornish. "Our car wasn't good enough to do that but I was very happy that we were good enough to run in the top 10 most of the day.
"I had a good feeling after the first race in the Chase when Brad was able to win. I'm really happy for Brad. I'm really happy for Roger and Dodge especially for letting me go out on a high note. Wish we could have done a little bit better."
Jeff Gordon took the win with Clint Bowyer second. Ryan Newman, Kyle Busch and Greg Biffle rounded out the top five.
NASCAR NATIONWIDE SERIES (NNS)
Sam Hornish Jr. posted his 12th top-five finish of the season in Saturday's Nationwide race at Homestead-Miami Speedway to clinch fourth in the season point standings. He rallied from an unscheduled green-flag pit stop for a flat tire to finish fourth in the 300-mile event at the 1.5-mile oval.
"We had one of those nights where we had a really good car," said Hornish. "We just didn't have what we needed at the end. We cut a tire under green. That got us out of sequence with the rest of the field. We were able to come back and have a top-five run which is good for the moral of the guys who fought so hard tonight. We wish we could have done better for Dodge, Alliance Truck Parts and Wurth."
In the 33-race series season, Hornish had 28 top-10 finishes.
Regan Smith claimed the victory in his first start for Dale Earnhardt Jr. and JR Motorsports. It was his first win in 103 Nationwide races. He will run the full Nationwide schedule for JR Motorsports in 2013.
Rickey Stenhouse Jr. became the sixth driver in Nationwide history to win back-to-back championships, using a sixth-place finish to clinch the title. He finished 23 points in front of second-place Elliott Sadler.
Hornish started 11th in the No. 12 Alliance Truck Parts Dodge but quickly worked his way into the top 10. He led once for six laps and stayed among the leaders until the tire issue surfaced, forcing the unscheduled pit stop. Two cautions in the final 25 laps gave Hornish the opportunity to get back in sequence with the leaders and challenge for a top-five finish.
"Our Dodge was really fast," said Hornish. "The 5 car (Smith) was fast. There were times that we were better, just not at the end of the race. We just didn't have track position at the end of the race and had to come from 11th to try to run down the leaders. Our Dodge was fast. The car was really good at times and felt strong."
Hornish will be running a full Nationwide schedule with Penske Racing in 2013. "I'd like to have brought home a win in my last Nationwide race with Dodge," he said. "We battled all night and I'm proud of my guys who overcame a cut tire and helped me race to a top-five. I'm really excited to get the opportunity to run a full Nationwide Series schedule next year. I hope that we can build off the success of this year and parlay it into a better season. I'm proud of my team. We worked hard all year and raced as hard as we could in our Alliance Truck Parts Dodge."
The second driver from Penske Racing, Ryan Blaney, drove the No. 22 Discount Tire Dodge Challenger to an eighth-place finish, his seventh top 10 in 13 starts in the series this season.
"This is a very difficult mile-and-a-half," said Blaney. "There's little room for error when you're running right up next to the wall. There's little room for error. It's a very tough race track, pretty tough to pass too. But it makes for fun racing."
NASCAR CAMPING WORLD TRUCK SERIES (NCWTS)
The 2012 NASCAR Camping World Truck Series season ended on a disappointing note Friday night at Homestead-Miami Speedway for Ryan Blaney and the No. 29 RAM team from Brad Keselowski Racing but there are plenty of positive take-aways that will provide an abundance of motivation for the off-season.
Blaney was collected in a three-truck mishap with just three laps remaining, knocking the 18-year-old driver out of a potential top-10 finish in his first trip to the 1.5-mile track. He finished 28th.
Blaney ends the season with a win along with two top-five and six top-10 finishes in nine starts in the series. Along the way, the son of Sprint Cup driver Dave Blaney drew plenty of attention with his driving skills.
Blaney started 16th in the contest scheduled for 134 laps and ran in the top 10 much of the event despite dealing with an ill-handling track. Running 11th, Blaney was collected in a mishap involving Ty Dillon and Kyle Larson in Turn 4. The No. 29 RAM was clipped as Blaney tried to miss the accident and turned into the outside retaining wall.
The three-truck crash forced NASCAR to briefly halt the race for track cleanup efforts and set up a green-white-checkered finish.
"It was a hard hit," said Blaney of the contact with the retaining wall. "We struggled a little bit all night and really couldn't find the speed we needed to race up front. I really wish we could have at least finished. I think we could have wrestled a decent finish out of it."
Cale Gale claimed his first career victory in the series, banging fenders with Kyle Busch and crowding him against the wall over the final 100 yards to take the victory. James Buescher finished 13th to win the series championship by six points over Timothy Peters.
Author: