Jim Flint, corporate director of interactive sales and marketing for the John Eagle Dealerships, is sharing with automotive dealers and managers his expertise on how to prioritize digital ad spend.
As dealerships look at automotive advertising budgets they will want to determine the most effective strategies to deliver the most efficient results.
Jim Flint will share his carefully calculated make and break elements of traditional advertising and digital advertising and how you can prioritize your budgets accordingly. This will be an eye opening discussion that smart dealers will not want to miss.

What will you learn and what action items will you take back to the dealership?
1. How to use real examples of digital versus traditional media spends and how it translates into sales.
2. How to line-up advertising and marketing priorities.
3. Learn from specific examples of dealer results – not just theory on what could or should happen.

With close to 15 years of experience in automotive sales and marketing, Jim Flint knows what it takes to drive retail sales in tough business climates. He's been responsible for the development of integrated business plans for Toyota, Nissan and Mazda. His unique combination of experience in sales operations, financial analysis and marketing yields the breadth and depth of experience that helps him develop solutions that drive real-time, bottom-line business results.
Today, Flint is the corporate director of interactive sales and marketing for the John Eagle Dealerships, as well as the president of a new business LocalSearchGroup.com—a digital marketing firm that provides support to dealerships, auto shows and local businesses that are trying to make sense of the local, social and mobile ad space. His focus is on crafting interactive marketing plans that deliver leads and increase opportunities to do business. With the budget pressure that most companies face today, it's more important than ever to be able to track results and ROI in order to deliver the greatest efficiency for even the smallest of investments.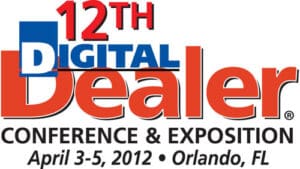 A 12th Digital Dealer® Conference & Exposition Featured Speaker: Jim Flint presents:  Moneyball: Prioritizing your Digital Ad Spend.
We're building out the agenda, selecting speakers and topics for more than 90 sessions that are laser-focused on all things digital.
www.DigitalDealerConference.com
Author: