As the GM or GSM, you're finally getting your sales staff to ask for customer reviews. But what are you doing with them? Are you posting them on your website or Facebook, tweeting about them, replying to them or are you doing all of the above PLUS using them to raise your salespeople's profiles on the web? A.J. Maida, director of digital marketing for Papa's Chrysler Dodge Jeep, will teach you how to make your salespeople more searchable on the Internet through the reviews that your customers have written about them.
Capitalizing on your sales team's visibility online is one of the best ways to get people to buy from your dealership and not the one down the street. And, don't forget, almost everyone at your dealership is on the Internet either answering leads, posting pictures or just doing the social media thing. You can turn that into an advantage for your dealership. Don't forget the basics – It's about the people, people! In the beginning, social media was about conversations between people and in the end, it's exactly where people are talking about your dealership, your salespeople and all your employees now! A.J. Maida is sharing his expertise with you.
What will you learn and what action items will you take back to the dealership?
1. Learn how you should respond to reviews to generate more reviews.
2. Learn how to identify who should respond to reviews at your dealership.
3. Learn how to add SEO value to your reviews and who to add it for.
4. Learn why even "bad reviews" can be good for your dealership.

A.J. Maida is the director of digital marketing for Papa's Chrysler Dodge Jeep in New Britain, CT. Maida is a leader in adopting new automotive digital technology solutions, and is a member of many dealer councils. He is a popular past presenter at the Digital Dealer Conferences and is a frequent contributor to many blog sites. Maida was featured in the cover story of the December 2010 issue of Digital Dealer magazine.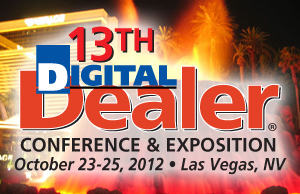 A 13th Digital Dealer® Conference & Exposition Featured Speaker: A.J. Maida presents:  It's All About People, People! Answer your reviews to build SEO for your employees.
We're building out the agenda, selecting speakers and topics for more than 100 sessions that are laser-focused on all things digital.
The Digital Dealer Conference & Exposition is the premier educational conference and expo dedicated to Internet and technology solutions for automotive professionals. Digital Dealer events deliver the largest array of speakers, peer to peer opportunities, and exhibit hall offerings – all carefully designed to impart cutting edge business strategies. With an audience of the industry's most progressive dealers and managers and the most innovative conference format, Digital Dealer provides the ultimate learning and networking environment.  For more information, visit:  www.DigitalDealerConference.com.
Author: