James Kovacs, director of digital marketing at ClickMotive, is sharing his expertise with automotive dealers and managers on how to improve the dealership's digital voice to increase customer awareness, engagement and conversion.
As technology changes and evolves faster and faster, creating the so-called "Splinternet," dealers can be at a disadvantage, and technology doesn't fight fair. The Splinternet gives consumers unprecedented access to information without any rules or sales engagement. The good news is, with a renewed focus, dealers can use the Splinternet to their advantage and let their digital voice roar. Jason Kovacs will give dealers and managers a clearer understanding of how to spend their time and money to focus on increasing their digital voice.
What will you learn and what action items will you take back to the dealership?
1. How to simply manage online reviews.
2. How to increase sales engagement from social sites.
3. How to combine search (SEO/SEM) to increase conversion.
James Kovacs is director of digital marketing, ClickMotive. Kovacs started his automotive career at the Canadian Automotive Institute. From there, he transferred to Northwood University where he graduated with a degree in Automotive Management.
Kovacs has worked for VW Audi North America and Daimler-Chrysler – Jeep Division at the OEM level, a top 10 automotive group on the retail side, and some of the top automotive focused vendors in the industry. His focus on digital marketing started over 10 years ago, and he has helped thousands of dealers realize the potential of online marketing. Since joining ClickMotive, he has led them from start-up status to one of the top companies in the automotive digital space. He is an advocate for the dealer and helps coach each client on successful digital practices.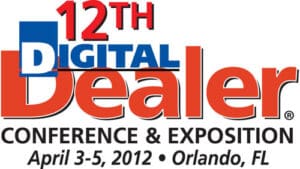 A 12th Digital Dealer® Conference & Exposition Featured Speaker: James Kovacs presents:  Turn your Internet Whisper into a Loud Digital Voice: A fresh look at how any dealer can improve their digital voice to increase awareness, engagement and conversion.
We're building out the agenda, selecting speakers and topics for more than 90 sessions that are laser-focused on all things digital.
www.DigitalDealerConference.com
[post_adspot]
Author: