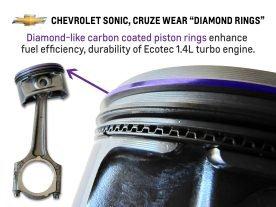 DETROIT – The diamond-hard technology that enables razor blades to shave closer and last longer also allows the piston rings of the Ecotec 1.4L turbo engine, available on the 2012 Chevrolet Sonic and Cruze, to operate with less friction for better fuel efficiency and durability.
This use of diamond-like carbon coating, or DLC, on a General Motors powertrain component marks a first for Chevrolet. Although the advanced synthetic surface treatment is relatively new to automobiles, it can be found on a variety of high-end products, such as computer hard drives, orthopedic implants and semi-conductors. GM also is testing its use on machining tools.
In general, piston rings seal an engine's combustion chamber, support heat transfer from the pistons to the cylinder wall and regulate engine oil consumption. In the Ecotec 1.4L turbo engine, the slick, synthetically hardened steel rings do these things with minimal wear and tear.
"Thanks to diamond-like carbon coating, we can use lower tension on the Ecotec's piston rings to reduce friction, which improves fuel economy," said Rich Ricchi, GM Powertrain technical specialist. "DLC also reduces oil consumption in high-mileage driving, due to the favorable wear properties associated with the DLC coating."
With the Ecotec 1.4L turbo engine and six-speed transmission, Sonic delivers an EPA-estimated 29 mpg in city driving and 40 mpg on the highway. When similarly equipped, Cruze delivers up to 26 mpg in the city and 38 mpg on the highway.
Depending on its intended use, diamond-like carbon coating can be chemically engineered to resist wear, control friction or avoid adhesion. In industrial applications, such as those being tested at a GM powertrain facility, a specially formulated DLC coating on metal hole-drilling tools helps avoid aluminum adhesion that can "gum up" machinery and cause production delays. 
Having "cracked the code" of diamond-like carbon coating chemistry on Ecotec's piston rings, GM is looking to use DLC on other powertrain components, such as rocker arms, as early as 2014.
"Through years of lab research, we've acquired an understanding of how to work with DLC at the atomic level," said Michael Lukitsch, GM senior researcher. "It holds great promise for future applications, both in advanced manufacturing processes and improved production parts that save our customers money."
Founded in 1911 in Detroit, Chevrolet is now one of the world's largest car brands, doing business in more than 140 countries and selling more than 4 million cars and trucks a year. Chevrolet provides customers with fuel-efficient vehicles that feature spirited performance, expressive design, and high quality. More information on Chevrolet models can be found at www.chevrolet.com.
Author: