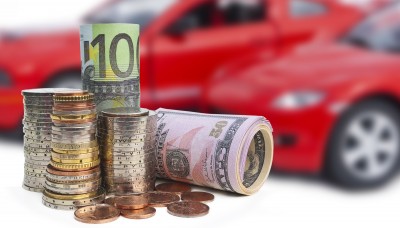 SANTA MONICA, Calif. — Edmunds.com, the premier resource for automotive information, forecasts that 1,198,538 new cars and trucks will be sold in the U.S. in February for an estimated Seasonally Adjusted Annual Rate (SAAR) this month of 15.5 million light vehicles. The projected sales will be a 14.9 percent increase from January 2013, and a 4.3 percent increase from February 2012.
"Car sales are persevering despite economic factors on people's minds like rising gas prices and the implementation of the payroll tax," says Edmunds.com Senior Analyst Jessica Caldwell. 'Pent-up demand and widespread access to credit are keeping up car sales momentum."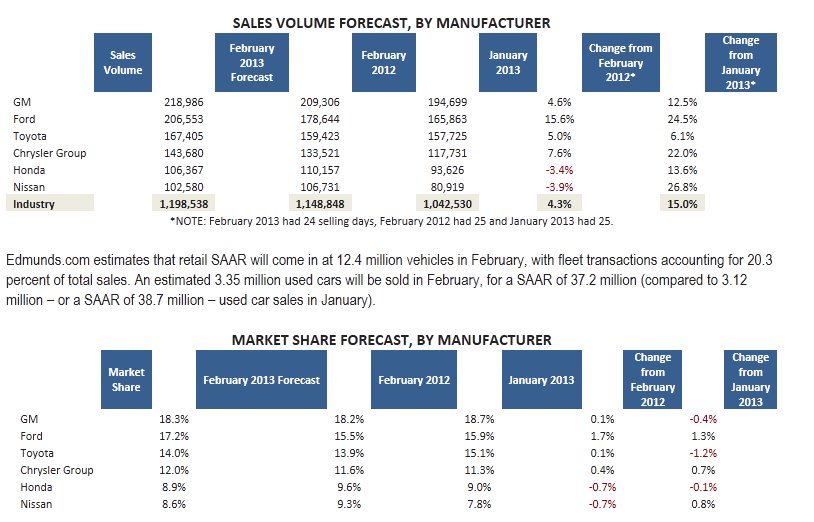 *NOTE: February 2013 had 24 selling days, February 2012 had 25 and January 2013 had 25.
Edmunds.com estimates that retail SAAR will come in at 12.4 million vehicles in February, with fleet transactions accounting for 20.3 percent of total sales. An estimated 3.35 million used cars will be sold in February, for a SAAR of 37.2 million (compared to 3.12 million – or a SAAR of 38.7 million – used car sales in January).
MARKET SHARE FORECAST, BY MANUFACTURER
More insight into recent auto industry trends can be found in Edmunds.com's Industry Center at http://www.edmunds.com/industry-center/.
For more economic analysis, please see http://www.edmunds.com/about/authors/lacey-plache.html
About Edmunds.com, Inc.
Edmunds.com is a car-shopping Web site committed to helping people find the car that meets their every need. Almost 18 million visitors use our research, shopping and buying tools every month to make an easy and informed decision on their next new or used car. Whether you're at the dealership or on the go, we're always by your side with our five-star Edmunds.com iPhone and iPad apps and our Edmunds.com Android App. Our comprehensive car reviews, shopping tips, photos, videos and feature stories offer a friendly and authentic approach to the automotive world. We're based in Santa Monica, Calif., but you can connect with us from anywhere by following @Edmunds on Twitter or by becoming a fan of Edmunds.com on Facebook.
Author: