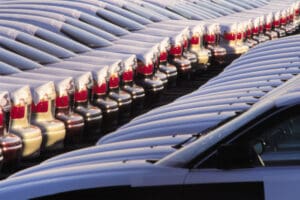 According to Kelly Blue Book's recent issue of the Blue Book Market Report for January 2012 December closes at 13.4 million SAAR and 12.8 million total sales for 2011.
THIS MONTH'S REPORT INCLUDES: 
MARKET ANALYSIS:
December Closes at 13.4 Million SAAR, 12.8 Million Total Sales for 2011
At the time of this report, more than 1.2 million vehicles are expected to be sold in December as shoppers that waited until year-end to find the best deals were greeted by zero percent finance offers, affordable lease opportunities, improved selection and modest cash rebates.  This marks the strongest December since 2007 and is 6 percent higher than December 2010…
Kelley Blue Book Projects 13.3 Million Sales in 2012
Industry sales will likely hit 13.3 million units in 2012, a 5 percent improvement from the 12.7 million units sold expected in 2011.  Sales improved considerably since 2009 when only 10.5 million vehicles were sold in the U.S.; however, we remain far below the 16 to 17 million unit sales of the early 2000s…
Despite Recent Improvements, Unemployment to Remain High through 2012
Unemployment has improved and although there are positive signs, we do not anticipate a significant reduction in the unemployment rate through 2012.  On an encouraging note, initial claims for unemployment have dropped in each of the last three weeks, more than 100,000 jobs were created in each of the last three months (possibly seasonal hires) and the unemployment rate dropped from 9 percent to 8.6 percent in the last month…
Euro Debt Crisis, Middle East Conflicts Could Pose Threats to U.S. Economy and Auto Sales in 2012
The global economy remains a major concern in 2012 and could pose a major setback in sales growth.  A lack of a sustainable long-term debt reduction plan in either Europe or the United States poses significant downside risk to the global financial sector.   If the financial sector were to suffer a significant shock, the U.S. could slip back into a recession or at a minimum consumer confidence could take a hit…
Housing Not Likely to Improve in 2012, Continues to Limit Sales Growth
The housing market will remain stable in 2012; however, we don't anticipate a significant rebound given the large number of homes that are in the process of foreclosure or seriously delinquent.  According to the U.S. Federal Housing Finance Agency (FHFA), currently 4 percent of all homes are seriously delinquent, a four-fold increase compared to early 2008…
Used-Car Values Will Remain Strong in 2012
Used-car values ended the year with a soft landing, closing out December with a modest 1.2 percent drop overall in values of 1- to 3-year-old vehicles.  Despite recent declines, values ended the year up nearly 4 percent year-over-year, continuing the annual increases in used-car values trend that began in 2009.  We believe that used-car values will remain strong in 2012…
Scion, MINI and Kia among Best Performing Brands of the Year
Used-car values are up 4 percent year-over-year with several brands emerging as leaders in the industry.  Kia is up more than 20 percent since last year, while the Scion and MINI brands have improved by 19.7 percent and 15.3 percent, respectively.  The relative strength of Scion and MINI can be attributed to their focused product portfolios, which consist entirely of compact and subcompact cars.  These segments continue to outperform the overall market despite significant depreciation since peaking in June, with subcompact cars increasing more than 18 percent and a compact cars jump to nearly 15 percent since last year…
LATEST HOT USED-CAR REPORT 
Winter Demand for Full-Size Models in Full Effect
As we approached year-end, kbb.com shoppers clearly took advantage of clearance deals being offered by manufacturers.  These new-car deals helped drive interest in the used-car counterparts.  The used segments benefitting from the boost in consumer research are full-size SUVs, crossovers and luxury vehicles…
Click here to read the full Blue Book Market Report for January 2012.
Author: