Dennis Carey, regional sales director for DealerTrack, is sharing his expertise with automotive dealers and managers on how to buy and sell pre-owned on the Internet.
You will learn strategies and examples of how the most successful dealerships utilize technology-enabled marketing to dominate the market. A real-world "battle plan" approach will give you the edge you need. Dennis Carey will share his expertise on the Internet time-to-market  and how to manage your Internet lot, as well as how some of the largest dealer groups in the country are using technology to grow their businesses.
He will be showing how to move your vehicles through your system faster, and how to properly market them to the Internet. Take an in-depth look at some cutting edge technology, real life statistics, case studies and industry best practices. Used properly, this knowledge can drastically improve the overall profitability and efficiency of a dealership.
What will you learn and what action items will you take back to the dealership?
1. Learn statistics and real life examples/data.
2. Learn about case studies of successful dealerships.
3. Learn industry best practices to improve time-to-market.

Dennis Carey, regional sales director for DealerTrack, is a well-known and respected used vehicle consultant. Carey works with and helps dealers of all sizes and franchises run more efficiently and profitably using today's technology to become successful. With more than 17 years working in the auto retailing industry, he is no stranger to the challenges of automotive retail and wholesale management. Carey has extensive in-dealership tenure, having held many positions including general manager for a large Pontiac-GMC store, as well as finance director with a 17-store group.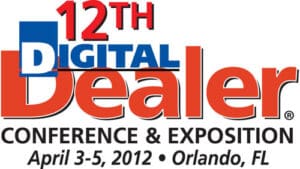 A 12th Digital Dealer® Conference & Exposition Featured Speaker: Dennis Carey presents:  Internet Time-to-Market: How to buy and sell pre-owned on the Internet.
We're building out the agenda, selecting speakers and topics for more than 90 sessions that are laser-focused on all things digital.
www.DigitalDealerConference.com
Author: