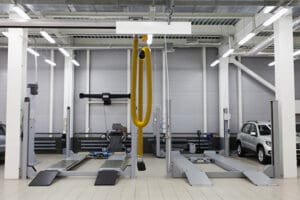 Dealerships boost fixed-ops spending to fend off rivals, retain customers, from Automotive News.
Alan Brown, general manager of Frisco Volkswagen north of Dallas, has a 62,000-square-foot dealership under construction on 14 acres.
About 60 percent of the $23 million construction price tag is going into fixed operations — roughly double what would have been spent on fixed operations less than a decade ago, Brown says.
The massive investment is paying for 36 service bays — including eight dedicated to express service — loaner cars and a staff of more than 30.
Frisco Volkswagen is one of many dealerships investing heavily in fixed operations. They are adding service bays, longer hours, dedicated express lanes and technology to boost efficiency.
Click here to read the entire article >>
Author: