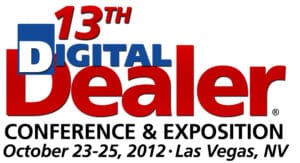 Members must sign up before September 30, 2012 to receive the offering.

Sarasota, FL – Dealers United, the first service to truly leverage the buying power of individual dealerships, is offering all of its members an exclusive $200 discount off of the 13th Digital Dealer Conference and Exposition in Las Vegas, NV, October 23-25 2012.
Dealers United and Digital Dealer have partnered to bring the best registration prices to DU members to attend the industry's premier learning and networking event. In addition to the discount, members will also receive a complimentary ticket to the inaugural Peer Networking Roundtables dinner on October 24, 2012. Together, the discounts represent a $200 savings over the retail price of $895 per attendee and a $99 savings on the Roundtable dinner. Plus, this deal is valid for as many employees and managers a member-dealership wishes to send to the conference.
"While this discount won't cover the airfare or hotel accommodations for an interested member-dealer, I can tell you from my experience as a dealer that every little bit helps," stated Dealers United Co-Founder and Sarasota Ford Dealer Principal Matt Buchanan. "Saving $200 here and $200 there really adds up at the end of the year."
Members interested in the discount must visit the Dealers United website at https://www.dealersunited.com/deal_digitaldealer.cfm in order to receive the deal before it ends September 30, 2012. Non-members are welcome to join during this period to take advantage of this exclusive discount.
"Even without this great deal, every dealer in the country should be sending at least a couple of people to this conference," added Buchanan. "The knowledge and best practices shared at the more than 100 training sessions are unmatched in the industry. You simply cannot expect to successfully grow your web-generated sales and fixed ops revenues without attending Digital Dealer."
The Digital Dealer Conference & Exposition is an educational conference dedicated to Internet and technology solutions for dealers and managers. Digital Dealer events deliver the largest array of speakers, peer-to-peer opportunities, and exhibit hall offerings, all carefully designed to positively impart cutting edge business strategies.
To learn more about this members-only offer or to sign up for the 13th Digital Dealer Conference and Exposition, please visit https://www.dealersunited.com/deal_digitaldealer.cfm.
#    #    #
About Dealers United:
Dealers United is the first service to truly leverage the buying power of individual dealerships.  By acting as a dealer advocate, Dealers United vets vendors, negotiates great deals and levels the playing field against very large dealer groups. Our goal is to ensure that every dealer, regardless of its size, has an equal opportunity to grow and succeed in this industry. As individual dealerships are increasingly challenged to allocate expensive resources to select the right vendors, Dealers United aim is to build strong relationships, negotiate terms and pricing with vendors and stand united. For more information on Dealers United, please visit www.DealersUnited.com.
About the 13th Digital Dealer Conference and Exposition:
The 13th Digital Dealer Conference and Exposition will be held October 23-25, at The Mirage in Las Vegas, NV.   There will be new Digital Dealer Learning Labs, Digital Dealer Innovation Hours,  a new Digital Dealer Peer Networking Roundtables dinner, more than 100 workshops, over 100 specialized technology solutions providers, and many more exciting new benefits.  For more information, visit:  www.DigitalDealerConference.com
Author: