Dealers Move Beyond Doughnuts, from New York Times.
Corrie Watson and her twin brother, Will Churchill, wanted a strategy to attract younger customers to their three sizable family-owned automobile dealerships and to keep them coming back for decades.
"We all sell the same cars," Ms. Watson said. "How do we create a experience that our customers will enjoy?"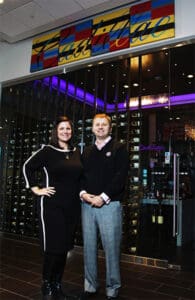 Clearly, free coffee and doughnuts, car washes and loaner cars weren't going to be enough. So a few years ago, the 38-year-olds — fourth-generation car dealers — decided to come up with some distinctive amenities for their Frank Kent Honda, Hyundai and Cadillac stores here.
Ms. Watson and Mr. Churchill created a committee of younger employees, which met for about three months to develop a strategy.
Now, customers can dine, look at original art, shop for wine and exercise their dogs without leaving the dealerships. Or, if they prefer to drop off their cars for service in central Fort Worth, they can do so at a wine bar, Kent & Co. Wines, in an upscale part of town. While their vehicles are taken to a dealership's service department, the owners can pass the time sipping wine, seasonable beers or mocktails or eating healthy snacks — there's even a hummus bar.
Situated in a onetime typewriter repair shop with an industrial-chic brick-and-stainless-steel decor, Kent & Co. Wines features a changing display of cars, vintage and new. Wines range from $17 a bottle to $4,500 for a 1961 Château Haut-Brion.
Over at the Frank Kent Honda dealership, a cafe serves HeartBrand 100 percent all-natural beef.
"A lot of places, they only have cookies and doughnuts," said Mr. Churchill, who added that he and his sister wanted to offer customers and employees better, more healthy, choices. "It's a long-term investment," he said.
Click here to read the entire article >>
Author: