The platform provides a low-cost solution for automotive dealerships to send custom text/SMS notifications to their vehicle service clients.
Champaign, IL (PRWEB) February 19, 2015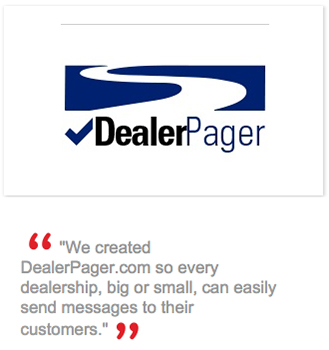 DealerPager.com, a new venture from a company with more than 15 years of industry experience, has launched a low-cost, custom messaging platform for automobile dealerships.
People are never far from their cell phones, and these days, any crowded room is likely to include many folks continuously staring into their screens. For a service department waiting area, or for vehicle service customers who have left the dealership grounds, there's an opportunity to ensure prompt delivery of useful information, while improving customer relations in the lane.
"It's as simple as asking a customer if it's okay to send a text with progress updates or when maintenance is complete. If your service department repairs 100 vehicles a day, that's up to 100 fewer times your service writers have to leave their desks. Searching for a customer can take 3-5 minutes, or more, so we're talking about a significant amount of time," said David Mizer, owner of DealerPager.com (http://www.dealerpager.com).
The service department typically opens several hours before the sales floor, and cars are constantly coming in and out. Service writers are among the busiest employees in the dealership, since they also greet incoming customers and make sure their vehicles get checked in correctly.
"Availability is a baseline expectation from our customers. When they pull in to our dealership, they expect to be greeted immediately. We continued adding advisors to keep up with this demand, when all we really needed was a way to get our customers to come to us. We also found we were no longer interrupting our guest experience with their salesman. Great service is much easier to provide when it's on their terms," adds Ray Caruso, former Service Director of Green Hyundai in Springfield, IL.
While there are a number of marketing packages that bundle e-mail, text, CRM, and social media management, having a low-cost program that focuses exclusively on customer communication is a tremendous value for dealerships.
"How many times have you scrolled through your cable or satellite TV menu and wished you could only pay for the channels you wanted to watch? In many ways, bundled marketing programs beg the same question. They're expensive, require hours of training, and not every dealership uses, or benefits from, the full range of features they provide. We created DealerPager.com so every dealership, big or small, can easily send messages to their customers," Mr. Mizer explains.
GOING BEYOND
Communication is a central component to any successful relationship, and the automotive industry isn't the only venue Mr. Mizer is targeting with his messaging platform.
"There's really no shortage of opportunities, here. I've been providing mostly niche technology solutions to the car business since 1999, so I know how much a program like DealerPager.com will help. But we're already looking at a number of other industries that want a low-cost method to improve communication with customers or with their own employees," he concludes.
Author: