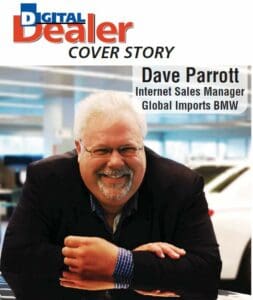 Dave Parrott, 52, Internet sales manager for Global Imports BMW-Mini in Atlanta, the top-selling BMW store in Georgia and No. 1 in the Sonic Automotive Group, says an eye toward continuous improvement, adoption of the best available technology, and an old-fashioned dedication to keeping in touch with prospects are key to the store's outsized success. Even in this tough market Global Imports is cranking out 100 Internet sales a month and anticipating the day when online sales will account for more profit than traditional foot traffic. We spoke with Parrott recently about the store's processes and his outlook for the future.
Dave, tell me what first attracted you to the auto industry?
I was in the computer field for many years and always wondered if there wasn't something I could do that involved more one-on-one interaction with people. After being laid off from a large company because they decided to outsource my position I had an opportunity to try my hand at sales. I made a promise to my wife that the first job I could find in the paper that paid $100,000 or more I would take. I guess it was fate that automobile sales starts with an A! I saw an ad in the newspaper that said "Make $100,000 a year selling cars your first year!" and I went for what I thought was an interview. It turned out to be an independent company training and recruiting in the Atlanta area. I took the class with the understanding that a dealership would reimburse the expense if I lasted 90 days. Within the first 90 days I not only made it but was one of the top producers in the company and was quickly promoted to Internet Manager, since I already had computer skills. 
How did you land as Internet director at Global Imports?
I was recommended by one of the trainers for Sonic Automotive Group. I had worked with this trainer at a previous dealer group. From the first meeting I had with Doug DeLoach, our GM, I knew this is the place I wanted to work. He embraces the Internet with enthusiasm like I have never seen before. Most stores seem to have the attitude we will have an Internet department because we have to, but there is always contention between the management team and the Internet department. Here we all work together as a team and it is our belief that one day the majority of sales will be produced by the Internet department.
When you began working at Global Imports, how advanced was it in its use of technology?
We were using technology but we have certainly made some major improvements in the past two years.  Sonic switched to a new website vendor in most of its locations which has been a very good move.  The vendor is a strategic partner that is responsible for Sonic's customer-facing websites, associated SEO and SEM initiatives, dealership support while acting as a distribution hub to third-party classified sites. Our sites have a consistent look and feel and do not have a lot of clutter as some sites have.  We have not lost focus on why the customer is on our site.  They want to see inventory and quickly be able to get answers to their questions.  Our websites are consistent thru brand – to provide a consistent brand experience – this varies by brand.
Even in this tough market your group improved sales. What are your unit/dollar sales this year versus last?
Our store is No. 1 in Georgia, No. 3 in the region, No. 1 in the Sonic Automotive Group and the winner of the Center of Excellence award six years in a row. Our Mini sales are No. 1 in the Southeast Region. We're actually the No. 1 single point store in the region for BMW and the No. 1 profit center for Sonic as well. Additionally, two members of my team have taken promotions to management, which is one of my biggest indicators of success. My team is comprised of the best of the best. I consider them the top guns of the automotive industry. 
What would you say was key to your improving numbers?
Putting quality members on my team and continually fine tuning our processes. We are consistently looking for areas we can improve upon. We are learning that there is a lot of value in staying in touch with prospects until they are ready to buy.
Give me an overview of the importance of Internet sales at Global Imports
As I already mentioned, it's our belief that the Internet sales group will continue to grow until one day our Internet sales number will surpass sales made by floor traffic. Due to our location, no one accidentally drives by our dealership. The Internet is the tool that drives the majority of traffic here for sales and service. 
Do you foresee any changes to improve your numbers further?
One major change I expect is the role video is going to play. I believe that one day soon technology will give us a low-cost solution that will allow us to send a live video feed to our customers for not just a virtual walk around but take it to the next level. Imagine your customer talking with you on the phone as you zoom in to different parts of the car and explain the benefits and features of the car on a live feed. There is also technology coming that will allow a three dimensional image of the car instead of just looking on a flat screen. One thing for sure is that technology is constantly changing and if we don't embrace these changes we will be left in the dust.
Would you say your brands insulate you somewhat from the tough market others are experiencing?
There's no doubt BMW is the brand to be selling. More and more people are seeing that BMW's cost of ownership just makes sense no matter what the market is doing. People are surprised to see that when you consider that service is included, our leases are very competitive with all other brands. This is partly because BMWs and Minis hold their value. Since residual values play such a critical role in leases this really helps the cost — and BMW Finance has stepped up with some great interest rates. 
What's the process for receiving and distributing Internet leads?
We run a round robin system of lead distribution. When a lead comes in our goal is a 10-minute or less response. If a lead is in the folder my team is instructed to take the lead and work it. A fast response with the information the customer asked for gives you the best opportunity to earn their business. 
What lead-generation tools work best on your sites?
No doubt about it – chat has been very successful for us. 
How do you use SEO?
Our website vendor manages our search engine optimization.  Our site is extremely search engine friendly and we make changes regularly.
(Editor's note: Sonic's SEO works on two levels. First is the local SEO that is driven by the dealership and inventory content changes. Second is the dynamic SEO which takes the content and optimizes it on the site/sites, search engines and "beyond" the Internet.)
How are you finding those 'better' keywords for SEM?
Trial and error.
(Sonic strategically buys key words based on geography, time, demand and market needs. It also dynamically links its SEM buying to its inventory, and is able to create automatic ad campaigns based on numerous factors. Campaigns are launched when inventory is acquired. And because it is dynamically linked, a customer searching for that vehicle will be presented a campaign/sponsored link on which he can click and get to that vehicle. As a result, Sonic is able to only advertise what is in its inventory.)
How do you use e-mail campaigns?
We have instituted a monthly e-newsletter which has really worked out well for us.
What about your marketing expenses? Are they increasing or decreasing?
Our marketing expenses with traditional marketing such as newspapers, radio, and television have gone way down because we get such a return on investment in electronic media. 
Are you big in the social networking arena?
One of my guys is huge in social networking on the Mini side and we are sticking our toes in the water on the BMW side at this point. We are involved in some forums and Twitter right now.
What new technology trends are you spotting?
Hands down, mobile media is going to be the next big arena. People are so intrigued with the I-phone and the Storm and many others that mobile will be huge. We have actually developed a mobile friendly site, which is becoming a huge hit. (Editor's note: Sonic's web sites are device specific and integrate into its data model. Customers visiting a Sonic website will see content that is optimized for the device they are on – whether it is a computer, an iPhone or some other mobile device.)
Tell me about the importance of your pre-owned sales?
Certified pre-owned BMWs continue to be strong in sales. Our certified cars will hit record numbers this year. Global Imports goes above and beyond in reconditioning our certified cars to where you literally cannot tell in many cases the car is not brand new. Our reconditioning group is a huge part of our success in this area. We are on a 60-day turn, which is not easy, but we have been able to run on this model for several months now and with tight inventory control it makes sense. It is rare that we have many cars go over 60 days. 
What else would you say sets you apart as a dealer group?
I think one of our keys to success has been good communication between the managers. Our general manager has a daily meeting with his entire sales management team including the Internet manager and we go over the desk logs to look for missed opportunities. Our sales philosophy is that we will continue to improve and never get comfortable where we are. When you get comfortable you have a tendency to stop watching your competition, which is the kiss of death in this business.
What's your typical work week like and what do you do to relax outside of work?
My typical workweek is to get here early and leave late, but when it is playtime work is the last thing I think about. My 12-year-old son Michael and I love to go to the lake on our Seadoo and Honda Aquatrax and we play hard. We typically ride 100-plus miles in a day and spend a lot of time just floating around in the lake, talking while floating on our life jackets or diving for unique rocks. I also enjoy spending time with my grown up daughters and grand kids. We spend a lot of summer time in the pool and hot tub. My wife Lila has a lot to do with my success. She never complains about my working hard to accomplish my goals and is always telling me you can do it. I know there are not many wives out there who could keep a great attitude with the hours we put in so she is a rare gem. I never take that for granted. God has blessed me with an incredible family.
Author: