Nashville, TN — Dataium, the largest aggregator of in-market automotive shopper behavior, today released its monthly Automotive Shopper Intensity (ASI™) report. The ASI index, a leading predictive indicator of automotive retail sales, decreased 0.4% in May from the previous month, a minor loss compared to the 12% gain observed in April.
Dataium predicts the US Retail SAAR in June to be 13.1 million retail units, a 0.79% decrease from the previous month.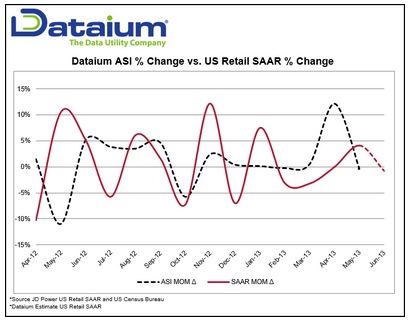 The slight ASI decline suggests that June automotive sales should be similar to May, even without the benefit of the Memorial Day weekend sales boost. Compared to May 2012, this month's ASI reflects a stronger economy which will likely drive higher sales volume this summer.
Japanese brands' ASI increased for the second consecutive month across both luxury and non-luxury segments. Many Japanese brands offered strong incentives to entice shoppers into the showroom. Although domestic brands offered similar incentives, they did not experience comparable increases in ASI.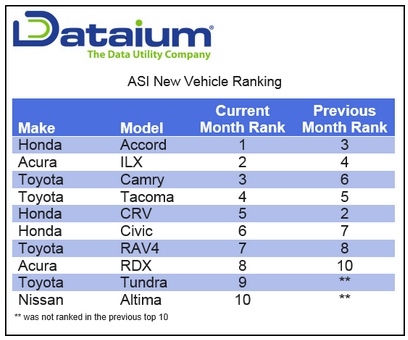 "This month's ASI report indicates Japanese brands have taken advantage of pent-up shopper demand," commented Jason Ezell, President of Dataium. "Strong incentives, effective marketing and new model announcements have helped Japanese brands stand out in auto shoppers' consideration sets." He added, "The entire industry saw ASI increases in April, but domestic brands lost 2% to 10% of those gains in May, while Japanese brands' ASI increased for the second consecutive month. In order to remain competitive this summer, domestic brands will have to effectively connect with their customers if they want to stay on top of shoppers' minds."
Dataium provides data and research on auto shopper/buyer behavior nationally, and by specific makes, models, vehicle segments, and markets. The index has proven to be very accurate in predicting future trends, consumer intent and desire, and promotional media impact on consumer behavior. The national ASI report is available for download at www.dataium.com/library. Dataium reports and dashboards are available on a subscription basis or may be customized to access real-time in-market behavior, sales forecasting, advertising effectiveness, inventory alignment, digital marketing performance, and website design proficiency.
To request complete access to Dataium's ASI predictive modeling tool on future consumer demand by make, model, trim level, segment, region, and market, contact Dataium at www.dataium.com/contact.
About Dataium, LLC
Dataium is the largest aggregator of online in-market automotive shopping activity. With its Cloud Intelligence® platform, the company collects, analyzes, and indexes billions of online automotive shopping events from over 20 million active auto shoppers monthly. The company supports cutting-edge data collection, analysis, proprietary research and reporting technology; VisiCogn® Knowledge Center, and is also known for its ASI™ index and ASI™ Awards. For more information, visit www.dataium.com, email: info@dataium.com, or call 877-896-DATA (3282).
Author: