Aggressive sales promotions between Honda and Toyota drive increase in automotive shopper intensity
Nashville, TN — Dataium, the largest aggregator of in-market automotive shopper behavior, today released its monthly Automotive Shopper Intensity (ASI™) report. The ASI index, a leading predictive indicator of automotive retail sales, ticked up 0.14% in March. Dataium forecasts the US Retail SAAR in April to be 12.3 million retail units.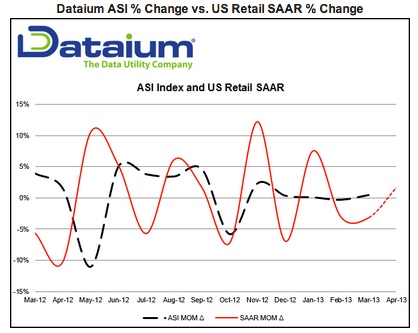 In March, the truck, sedan and compact car segments showed minimal changes in overall auto shopping intensity, however intensity around the compact SUV segment decreased for the first time this year. Despite the slowing segment, strong interest in the Honda CR-V and the Toyota RAV4 kept the compact SUV segment in the lead for overall shopping intensity.
Fierce competition between the Japanese brands, Honda and Toyota, continued for a second consecutive month, as both makes ran nationwide sales events through March featuring strong consumer incentives.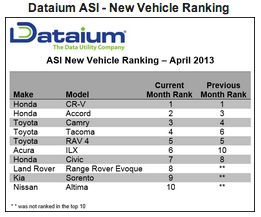 Eric Brown, CEO of Dataium, stated "Honda and Toyota have been battling to take market share from each other, but what we've seen is both are actually stealing share from other brands. Competition is intense surrounding SUVs and sedans, but popular models like the Tacoma and the Civic are being pulled into the fight for shopper attention as well. Honda and Toyota must see increasing signs of improvement and consumer stability in the US economy as an opportunity to capitalize on shoppers preparing to move into the market for a new vehicle."
Dataium provides data and research on auto shopper/buyer behavior nationally, and by specific makes, models, vehicle segments, and markets. The index has proven to be very accurate in predicting future trends, consumer intent and desire, and promotional media impact on consumer behavior. The national ASI report is available for download at www.dataium.com/library. Dataium reports and dashboards are available on a subscription basis or may be customized to access real-time in-market behavior, sales forecasting, advertising effectiveness, inventory alignment, digital marketing performance, and website design proficiency.
To request complete access to Dataium's ASI predictive modeling tool on future consumer demand by make, model, trim level, segment, region, and market, contact Dataium at www.dataium.com/contact.
About Dataium, LLC
Dataium is the largest aggregator of in-market automotive shopping activity. With its Cloud Intelligence® platform, the company collects, analyzes, and indexes billions of online automotive shopping events from over 20 million active auto shoppers monthly. The company supports cutting-edge data collection and reporting technology; VisiCogn® Knowledge Center, and is also known for its ASI™ index and ASI™ Awards. For more information, visit www.dataium.com, email: info@dataium.com, or call 877-896-DATA (3282).
Author: