Nashville, TN — 5/22/2013 — Dataium, the largest aggregator of in-market automotive shopper behavior, today released its monthly Automotive Shopper Intensity (ASI™) report. The ASI index, a leading predictive indicator of automotive retail sales, increased 12.1% in April, the highest increase in the past twelve months. This record-setting increase was echoed in the University of Michigan Consumer Sentiment Index, which reached a six-year high in April.
Dataium forecasts the US Retail SAAR in May to be 12.6 million retail units, a 4.1% increase from the previous month.
Automotive shopping intensity increased across a broad range of segments in April, with the compact segment exhibiting 20% month over month gains, the highest increase of any segment.
The combination of recent stock market highs and rising consumer confidence has also driven auto shopper intensity for luxury models. The ASI for luxury vehicles has risen on average 10% over the past two months, in comparison to the ASI for non-luxury vehicles, which has increased 2% on average in the same time period. This month's ASI New Vehicle Ranking illustrates these trends, with four of the top ten vehicles representing the luxury class: the BMW 3 series, Acura ILX, Land Rover Range Rover Evoque, and Acura RDX.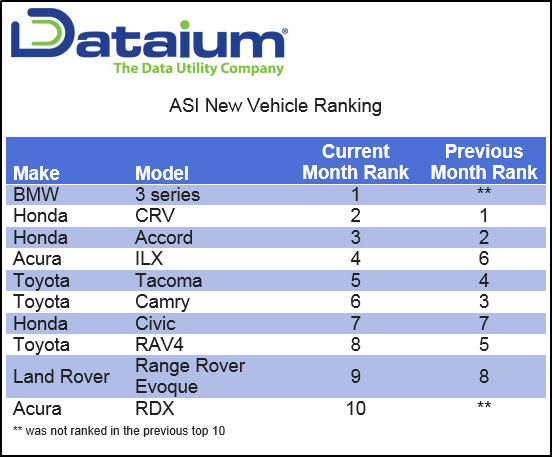 Eric Brown, CEO of Dataium, said, "Often we see growth isolated to, or dominated by, a narrow segment of the auto market. This month's ASI reflects consumer confidence across the entire market: from affordable compacts to luxury models and everything in between. As the economy continues to improve and the employment rate rises, automotive shoppers are becoming more confident in making a long-term investment in their vehicles."
Dataium provides data and research on auto shopper/buyer behavior nationally, and by specific makes, models, vehicle segments, and markets. The index has proven to be very accurate in predicting future trends, consumer intent and desire, and promotional media impact on consumer behavior. The national ASI report is available for download at www.dataium.com/library. Dataium reports and dashboards are available on a subscription basis or may be customized to access real-time in-market behavior, sales forecasting, advertising effectiveness, inventory alignment, digital marketing performance, and website design proficiency.
To request complete access to Dataium's ASI predictive modeling tool on future consumer demand by make, model, trim level, segment, region, and market, contact Dataium at www.dataium.com/contact.
Author: