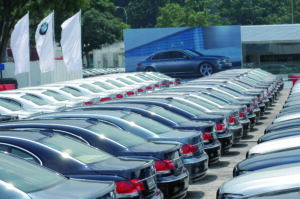 Nashville, TN  — Dataium, the largest aggregator of Internet automotive shopper behavior, released its 2011 ASI (Auto Shopper Intensity) Rankings report for new vehicles. The rankings are based on its ASI index which measures consumer demand and shopping intensity by automotive make and model. The index is a highly predictive indicator of automotive retail sales, and is derived from automotive shopper behavior gathered from Dataium's network of automotive manufacturer, dealership and portal websites.
The luxury vehicle, BMW 328, received the highest ASI ranking among new vehicle models. Rounding out the top five with the highest rankings were the Ford F-150, Nissan Altima, Toyota Camry and Audi A4.
Manufacturers showing the biggest gains in consumer demand were primarily import brands, with Hyundai and Kia taking the top two spots, growing 42% and 37% respectively. Only one domestic brand, Ford, was included in the top five list of OEMs with the biggest increase in shopping interest.
In terms of new vehicles with the largest gains, the Kia Optima and Volkswagen Jetta sedans outshined the competition, rising by 46% and 41% respectively during 2011. Interestingly, the introduction of the redesigned Toyota Camry in August, helped vault the model into the fifth position.
"BMW's strong shopper intensity scores were clearly reflected in the company's sales performance throughout the year," said Eric Brown, CEO of Dataium. He added, "Interestingly, we first identified the increasing consumer interest in their brand in ourSuper Bowl advertising impact study released last February, and saw that trend continue throughout the year.
Below is a summary of the Top 5 ASI rankings:
To download the complete 2011 Dataium ASI Rankings report, please visitdataium.com/library.
Through proprietary data collection and analytics, Dataium aggregates and measures billions of auto shopper behavioral events from over 60 million active auto shoppers across a network of diverse automotive websites. Dataium not only provides data and research on auto shopper/buyer behavior nationally, but by specific makes, models, vehicle segments, and markets. Further Dataium provides campaign attribution/impact, retargeting, and lead reanimation data solutions.
About Dataium, LLC
Dataium is the largest aggregator of Internet automotive shopping activity. With its Cloud Intelligence™ platform, the company collects, analyzes, and indexes billions of online automotive shopping events from over 60 million active auto shoppers. The company supports cutting-edge data collection and reporting technology; VisiCogn® Collection Utility, VisiCogn® Knowledge Center, and is also known for its ASI™ index. For more information, visit www.dataium.com, email: info@dataium.com, or call 877-896-DATA (3282).
Author: