The Internet is growing inside your store. You can see it, feel it, and watch it getting bigger. Do you know how to measure your growth month to month? In this fun and informative session, Bill Playford and Katie Donovan will walk you through the metrics to focus on daily, weekly and monthly.  From reviewing and understanding the analytics of your online presence to tracking the performance of your Internet process and equity opportunities, they will share actionable information to help you monitor your store's success and affect change. From the first alert of a lead inside your CRM system to the vehicle's delivery, they will discuss what check-ups you should be making to ensure your Internet department is on the healthiest path. Kate Donovan and Bill Playford are sharing their expertise with you.
What will you learn and what action items will you take back to the dealership?
1. Learn what specific metrics to track on a daily, weekly and monthly basis.
2. Learn how to utilize the data to make changes to budget, structure, and process
3. Hear how to structure check-ups of both your technology and your teams.
4. Learn what symptoms to watch for when growing your department and how to address these telltale signs with action based on the store's measurements.
Kate Donovan is the CRO of Visible Customer. With years of experience at various family companies, including body shops and technology companies, she had an opportunity to head account management for a large Who's Calling reseller.  With proven success, Donovan moved to Seattle and developed account/sales support for Who's Calling's 200-plus field staff.  Donovan left Who's Calling in 2005 to start Visible Customer, a company focused on dealership data management, mining and dealer services. When Visible Customer sold in 2009, Donovan left to assist the growing VinSolutions with dealership marketing and training. In 2011, a unique opportunity developed, allowing Donovan to purchase back the assets of Visible Customer, and feeling passionate about the original mission, she returned to head up sales and service.

Bill Playford is vice president of DealerKnows Consulting. He brings a unique mix of dot com imagination, MBA strategy, and dealer practicality as he focuses on DealerKnows' continuing product and curriculum development. Before joining DealerKnows, he served as director of retail operations for Trilogy's SmartLeads program, playing an instrumental role in developing an OEM-adopted lead scoring program. Playford has spent more than 10 years implementing geographic and demographic targeting programs, and was among the first to launch an analytics program at the dealer level. A long-time e-commerce evangelist, he seeks to help bridge the gap between technology and dealer culture.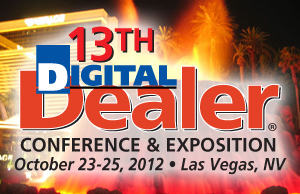 13th Digital Dealer® Conference & Exposition Featured Speakers: Kate Donovan and Bill Playford present:  What to Inspect when you're Expecting — What metrics to watch and how to utilize the data to maximize the opportunities inside your store.
We're building out the agenda, selecting speakers and topics for more than 100 sessions that are laser-focused on all things digital.
The Digital Dealer Conference & Exposition is the premier educational conference and expo dedicated to Internet and technology solutions for automotive professionals. Digital Dealer events deliver the largest array of speakers, peer to peer opportunities, and exhibit hall offerings – all carefully designed to impart cutting edge business strategies. With an audience of the industry's most progressive dealers and managers and the most innovative conference format, Digital Dealer provides the ultimate learning and networking environment.  For more information, visit:  www.DigitalDealerConference.com
Author: