Paul Potratz, COO of Potratz Advertising, is sharing his expertise with automotive dealers and managers on socio-digital strategies.
Paul will show you how to build a social integration and behavioral retargeting strategy. This strategy will allow you to target individuals with a specific message speaking directly to their need, desire and want. In other words…Paul will show you how to gain insight into why individuals visited your website in the first place, what they are interested in and what you need to be saying in your marketing messages to convert them to becoming your customer. This strategy will allow you to stop wasting ad dollars with a general advertising message and start developing a one-to-one advertising strategy. You will keep customers coming back again and again to do business with your dealership.
Companies like Amazon, Dell, and Zappos are utilizing this type of strategy; however, it is practically unheard of in the automotive retail industry. This is your opportunity to be one of the first to embrace a socio-digital strategy in three steps.
What will you learn and what action items will you take back to the dealership?
1. Learn how to create engaging content for visitors to interact with.
2. Learn about social logins to gain insight about each specific individual.
3. Learn about retargeting behavioral strategy to continue the conversation and keep them coming back.
Paul Potratz, COO of Potratz Advertising, is an industry leader and speaker in digital, behavioral and social media marketing for the automotive industry. He has contributed to The New York Times, NY Post, CBS, Wall Street Journal, Automotive News, J.D. Power and Associates, NADA, NCM, and F&I Summit to mention a few. Potratz presents real life examples showing how his dealerships have become rated the top 100 in the country by adopting his e-commerce marketing strategy. He is also the host of the weekly video series "Think Tank Tuesday," which reaches over 58,000 automotive professionals.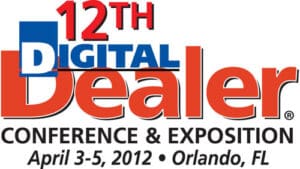 A 12th Digital Dealer® Conference & Exposition Featured Speaker: Paul Potratz presents:  Do you Have a Socio-digital Strategy? Knowing a visitor's social behavior equals a profitable digital marketing strategy!
We're building out the agenda, selecting speakers and topics for more than 90 sessions that are laser-focused on all things digital.
www.DigitalDealerConference.com
[post_adspot]
Author: